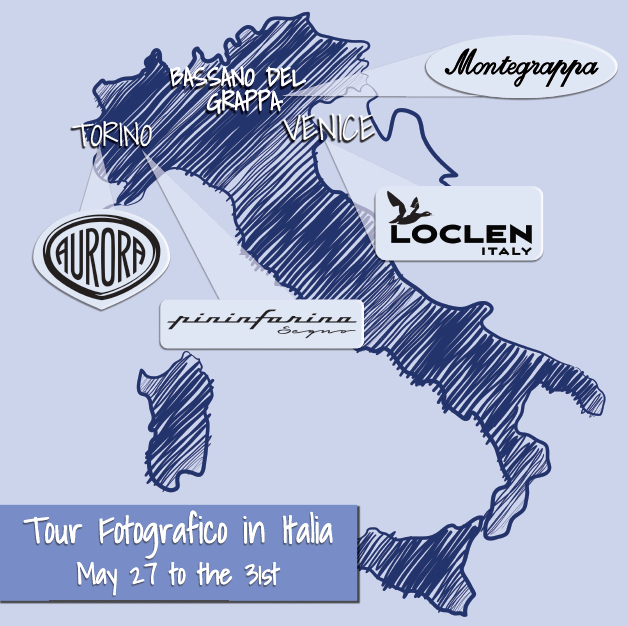 Factory Tours of ITALY
Join us for a virtual pen tour, as Kenro visits Italy's most important pen factories. Kenro has partnered with the talented photographer Michael Rubenstein for a special photo tour in Italy. Follow us, as we navigates our way through Torino, Bassano del Grappa and Venice, all while capturing the beauty and hearts of the artists, craftsman and the people who develop our fine fountain pens. Follow our stories on Instagram as we share inside peeks into the homes of Aurora, Montegrappa, Pininfarina and the all new Loclen.
Follow the Instagram accounts  @kenro_official & @iheartfountainpens
You can also follow the tour on our Facebook Page
About Michael Rubenstein, the man with the camera:
Michael has been a photographer and director for more than 15 years. Professionally he photographs and directs advertising campaigns for some of the world's largest corporations including Intel, Philips, Siemens, Nike, Budweiser, Verizon and Guardian Insurance among many others. With a background in photojournalism my focus on the stories behind the brands and the people who work at them has made me an in demand photographer for years. In addition to commercial work I also occasionally work for the New York Times, the Wall Street Journal, Domino Magazine and NBC News. In 2014 Sony made him an Artisan of Imagery, one of less than 40 photographers in North America, representing their brand in professional and consumer circles.
In addition to being an experienced professional photographer Michael is also a fountain pen fanatic. He keeps a separate instagram showing off his pens, @iheartfountainpens. The history and current design and production of Italian fountain pens is a topic that is near and dear to his heart and absolutely loves to come and make beautiful images and video of these iconic brands.
Please feel free to visit his instagram and website to see his work with different brands that produce iconic products in the US. Rusty Surfboards, Martin Greenfield Custom Suiting, Horse Custom Bicycles and Walt Siegle Racing Motorcycles.
AURORA
LOCLEN
---
Call or email us for more information: