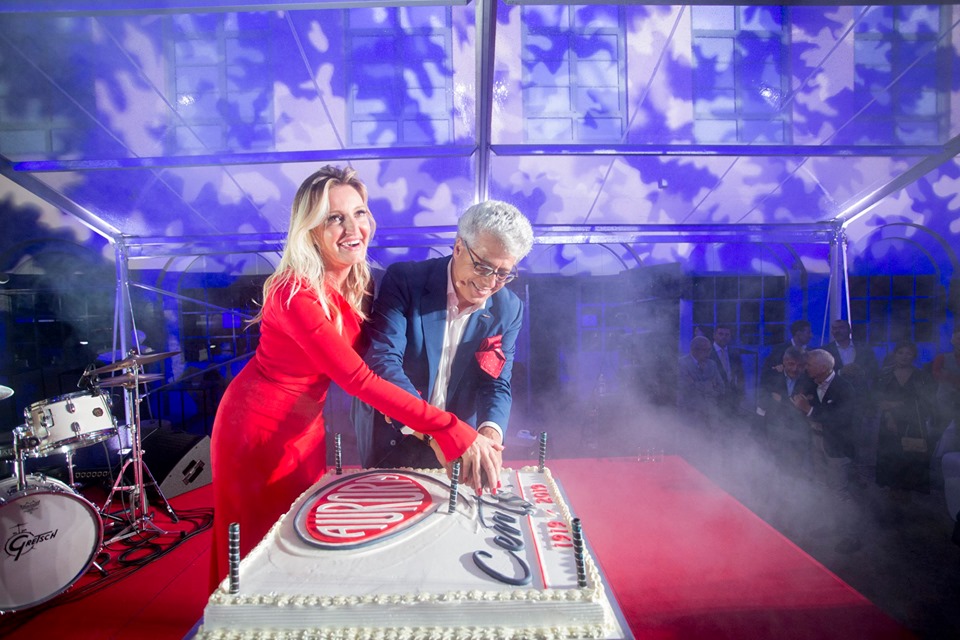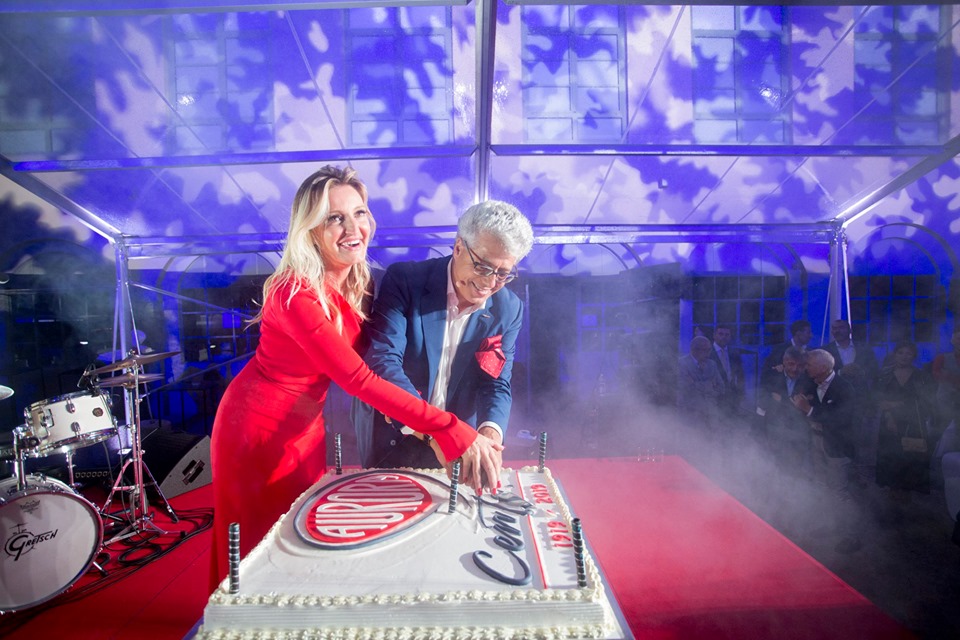 Aurora Cento! A Celebration for the Ages!
Cento! Last week, Joel, Bryan and our guest, Dan Smith traveled to Torino to celebrate Aurora's 100 Years of pen making. We arrived in Italy Tuesday morning and spent two days reviewing new products, touring the factory and spending time with our friend's at Aurora. We had been prepped on some of the special plans for the week and were bursting with anticipation. Aurora had been planning the Cento event for over a year and it was sure to be the celebration of a lifetime. 100 years!
We arrived at the factory straight from the airport. We all had a good rest on the flight, so we felt relatively fresh and ready to see all that was taking place. We had heard about the stage, the light shows and other special events that were planned. We couldn't wait to catch a glimpse.
We arrived at Aurora, which is located about fifteen minutes outside downtown Torino. Our Kenro team was greeted by Linda. Linda wears many hats and is not only our main contact at Aurora, but she is also responsible for much of the magic that will take place over the next few days. You could tell that she was beaming with excitement over their special plans and couldn't wait to share her delight. She shuttled us around the courtyard and teased us with bits of what was being constructed by the fifty or so workers in the yard.
Linda ushered us to the familiar offices so we could speak about business and new introductions for the year. Thankfully, Aurora is not sleeping and they have a fresh lineup of amazing fountain pens planned. We'll be sharing this news over time, but rest assure, we will have some cool pens arriving this year. we were tempted to write about them, but we've been sworn to secrecy. Soon! We promise.
As we ogled over shiny new pens, Dan was having some fun of his own. He was given a private tour of their museum and spent time in the factory with the resident Nib Master himself, Filippo. Dan exchanged thoughts on specialty Aurora nibs like the Flex, Italic and the new Goccia. You could see that Dan was in his zone, as he peppered Filippo with questions about his thoughts on these unique nibs. He at one point even offered to work there this summer lol. After some nib chat, they guided Dan through the many stages of production for an Aurora pen. He met the people who craft the pens and gazed around as the factory was humming on all cylinders. Pens were being turned and the process was in full motion.
We spent several hours at Aurora and headed back to the hotel to refresh and eat some pizza. Of course pizza, what would you eat?
The next day we toured the wonderful city of Torino. We were lifted to the top of the Mole, visited the home of the former monarchy and spent the day enjoying this ancient city. Dan was new to Italy and we enjoyed taking him around to the many points of interest. It was a perfect sunny day and one we'll surely remember for sure. Unfortunately, rain was in the forecast and we were all concerned for the next day and the party.
June 6th arrived and it was time to celebrate the Aurora Cento! We didn't realize but our hotel was full with Aurora distributors and retailers from around the world. We were chatting it up with people from as far as China, Dubai and Australia. It was suggested that everyone wear something red and most were. We even spotted some red sneakers and ties that were made for a one time wear. The lobby buzzed with pleasantries and we were bussed off to the Aurora factory. It was time!
We arrived at the factory and were greeted by Cesare Verona, the owner of Aurora who was surrounded by a host wonderfully dressed staff and photographers. There was a ten foot poster announcing the Cento and two amazing automobiles parked on a red carpet. One car was a vintage Lancia produced in 1919 (the founding year of Aurora) and another car that was something from out of space. It was incredible. Cesare announce how the Lancia represents the history of the Aurora Pen brand and how it was looking at the other car to say that it's ready for the future. What a wonderful way to introduce the story.
The theme of the event was the "Aurora Hotel" and we were greeted at a faux lobby, complete with a front desk and a staff in full costume. It was fantastic! The staff guided us on a tour through the factory, where we watched short Broadway-like performances and other special acts. We also found a redesigned meeting room to reflect that of a vintage movie theater, where they played a custom movie made for a pen audience. The movie featured moments from famous films where pens played an active role. The music was dynamic and the footage was amazingly well thought out.
Just outside the theater room, you could find museum like displays with different pens representing the many years from their history. Each pen was matched to a scent and and each was uniquely interesting. They were touching on all senses and we loved it. as we exited the museum,  we took a quick selfie in the giant nib chair and worked our way to the bar for an Aperol Spritz! We were now in a very large room that is used for events and overlooks the main court outside, where the main party would occur. The room has these incredibly large windows and they were all open, as Italians don't believe much in air conditioning. Looking outside you could see that we were having a serious sun shower. Thankfully it passed rather quickly and we worked our way outside to the main event area.
Along the way, there were several stations for us to enjoy tasty treats. Each station hosted different foods that matched a particular pen or series. The most fun were the colored macaroons in green, red and blue. Who even thinks of these things? Linda, that's who! Every detail was addressed and we were absolutely impressed. Keep in mind that our Kenro team has traveled all of the world, including Baselworld, Couture, Paperworld etc. and this event was quickly climbing and becoming tops.
The evening mood was set with an eight piece band, wonderful nations of food and flowing drinks. There was a great mix of people, including locals from Torino, family and internationals like us who were all there to celebrate 100 years of writing! The main stage evolved through the evening, as Cesare was front and center speaking about the history and chuckling over stories from the past. Cesare and Linda passed awards and congratulated people for special brand achievements. Kenro was honored for thirty wonderful years of service and dedication! We were among the first export distributors for Aurora and navigated the ups and downs of the fountain pen industry.
The party was thrust into the night, complete with a show for the ages. There was a runway modeling show! Yes, a modeling show for their different pen collections and their ten decades of time and life as a brand. Each stunning model showcased a pen to represent a period in time, including  a woman beautifully modeled as the Queen. Of course the Queen was holding the diamond encrusted 88, which was a show stopper.
If the modeling show wasn't enough, the following events included a first class live opera and light show. This one is tough to explain, so you'll just have to take our word and stay tuned for the video. People would have paid admission to see such a show! Absolutely first class!
It's fair to say that this was the party of a century. Confetti and champagne popped, and people danced deep into the morning. We were all there to celebrate a pen, its family and the people who live this special brand. The Aurora Cento celebration will hold a special place for us, as we look to the next 100 years!
We must extend a big thank you to Cesare, Linda and the entire Aurora team. Thank you for having us and celebrating like family!
---
Call or email us for more information: