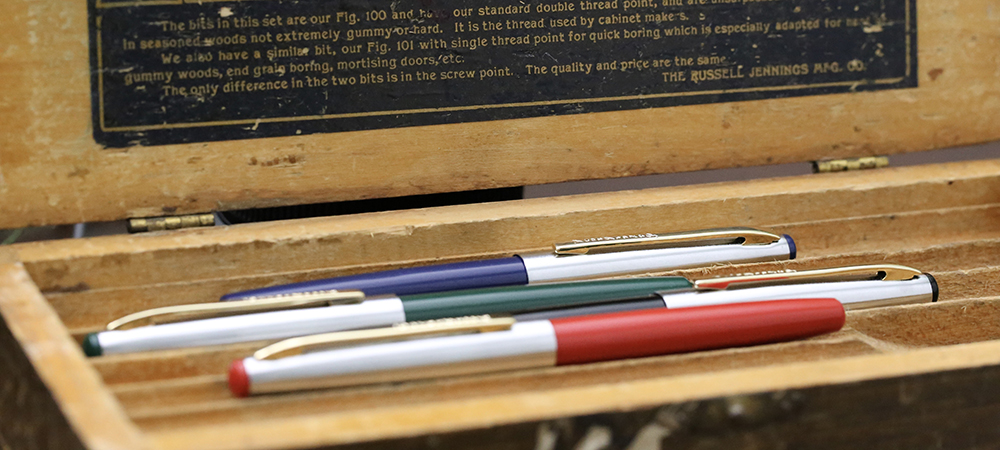 Esterbrook Phaeton Overview
Esterbrook's new Phaeton 300R is a classic revival of the brands original Phaeton model released in 1964. The hooded nib fountain pen was all the rage during the 1960's, and appear to be making a comeback with the new generation of fountain pen enthusiasts. 
The Phaeton 300R has many excellent features which make it stand out from other pens in this category. First and foremost is the price. At a suggested retail price of $85.00, it is truly an exceptional value for this well designed and functional fountain pen.
Available in four colors, Mineral Blue, Spruce Green, Signal Red and Midnight Black, The Phaeton is made from a beautiful 1960's inspired acrylic material which feels great in the hand.  A brushed metal silver cap with gold plated clip, add elegance and style to the overall look of the pen.
The most important feature of the Phaeton 300R is the way it writes. Esterbrook used a hooded F/M gold plated hooded nib which allows the ink to flow wonderfully. A special inner cap insert prevents the ink from drying when not in use. The Phaetons removable plunger filling system makes for easy cleaning and maintenance.
The Phaeton 300R is functional pen designed to be your everyday user.  With its added styling , it is truly a classic revival at an amazing price .
Now available at authorized Easterbrook dealers Worldwide.
Details HERE