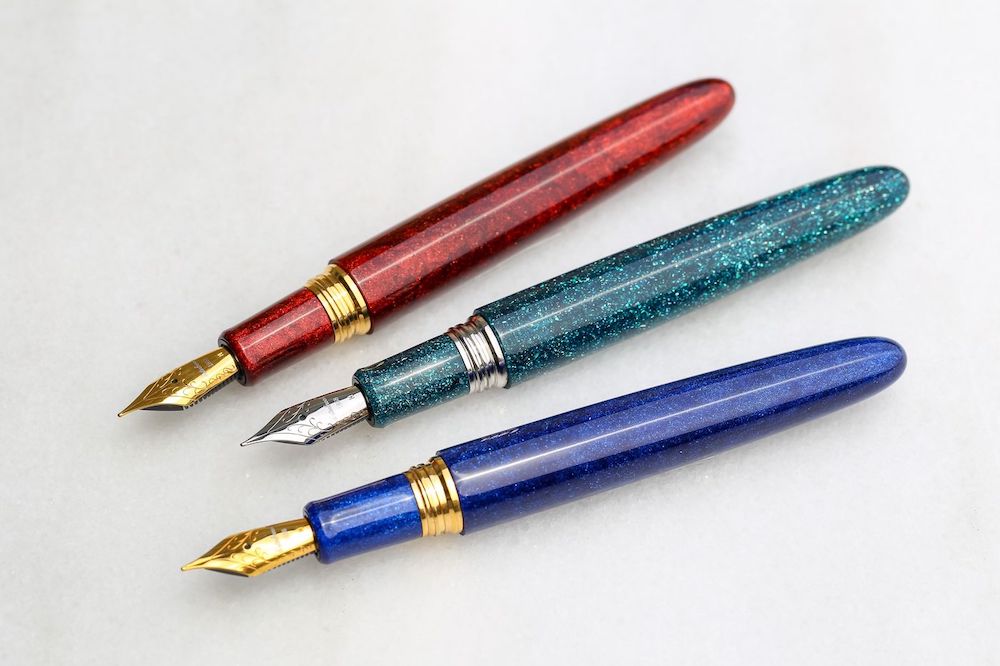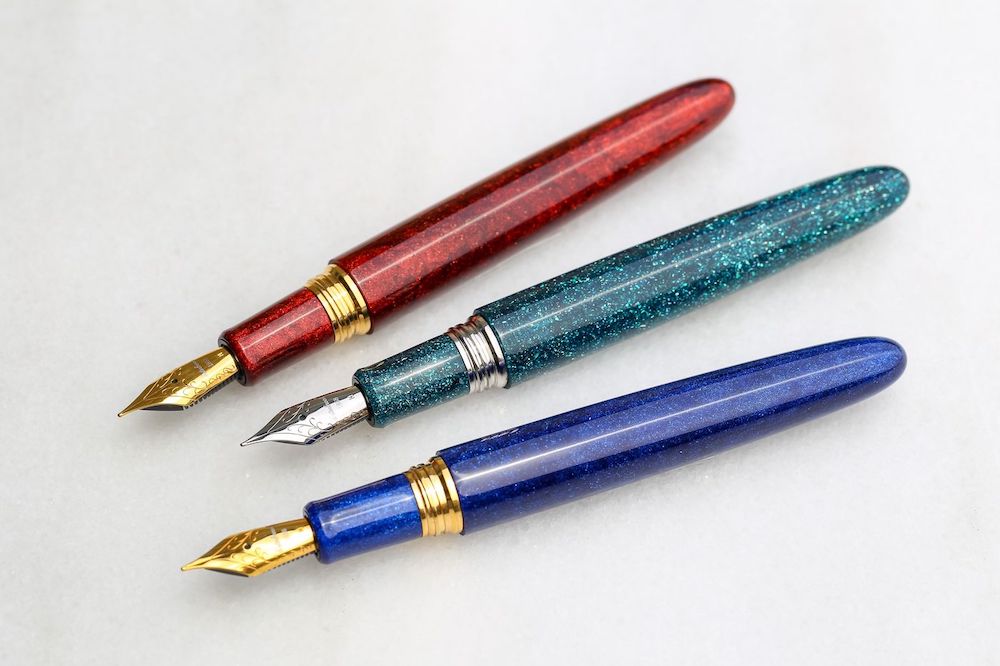 The Esterbrook Estie OS Sparkle
The Estie has been an integral part of the revival of the new Esterbrook brand.  It's sleek and stately in the hand and a great writing instrument for everyday use and special occasions.  
 In the past two years, pen enthusiasts all over globe have added the Estie to their collections. And while these pens have been lauded in our three time-honored, classic colors and our seasonal offerings in Evergreen, Blueberry, Honeycomb and Lilac, even the Estie wants to truly break out and gussy up from time to time. 
 Introducing the Estie Sparkle.  
This gem of a pen has had a glitzy makeover and is our most ambitious Estie to date.  
 As Esterbrook is committed to collaborations with US makers, for this limited edition Estie, we partnered with Tim McKenzie of McKenzie Penworks in Charlotte, NC.  
Tim McKenzie of McKenzie Penworks in Charlotte, NC is a custom Alumilite blank maker who wanted to separate himself in the marketplace. How to make one's product unique is a challenge to artisans throughout the industry, so Tim got innovative and added diamonds to his mix of Alumilite and pigments. 
Taking knowledge and advice from his mother, a GIA certified gemologist, and conducting his own research and experimentation, Tim figured out the precise size diamond particles needed to be to allow his pen material to be machined effectively without losing the intense sparkle of the precious gems.
Using reclaimed diamond particles from diamond cutters, McKenzie takes what would be wasted and instead, upcycles it and makes it into a material that shines and glimmers with light in each move of the resulting pen.
Now patent pending, McKenzie's Diamondcast material has made a big impression and enchanted custom penmakers all over the globe.
Staying with Esterbrook's tradition of utilizing as many American made materials as possible, we approached Tim to partner with us to make a new version of our oversized Estie, because let's face it, if you're going to have a pen made with diamond dust, it has to be supersized and we wanted to use his material in the most epic way we could.
The result is the Estie Sparkle. It comes in three shimmering gem-like shades, Garnet, Tanzanite and Montana Sapphire (which has the addition of silver to make it even more of a showstopper).
Features
Comfortably balanced fountain pen in a complete range of points for the way you write
Nib size/point size extra fine, fine, medium and broad. 1.1 Stub now available in Rhodium trim. – Specially manufactured in Germany by Jowo
Blended and turned acrylic with a high polished finish
Cushion cap closure provides a secondary seal to ensure a wet point
Ink is filled by a cartridge of ink or a converter, which acts like a syringe to draw ink from a bottle
Sleek palladium clip that provides a clean accent for the cap and slides easily to ones shirt pocket
Retail is $395 with EF, F, M, B & 1.1 stub
Journaler nib option available for $50 up-charge
---


ESPT10 – Tanzanite, Gold Trim OS Fountain Pen – Retail: $395 –  SOLD OUT


ESPR10 – Garnet, Gold Trim OS Fountain Pen – Retail: $395 –  SOLD OUT


ESPB10 – Montana Sapphire, Palladium Trim OS Fountain Pen – Retail: $395 – SOLD OOUT
---
Call or email us for more information: