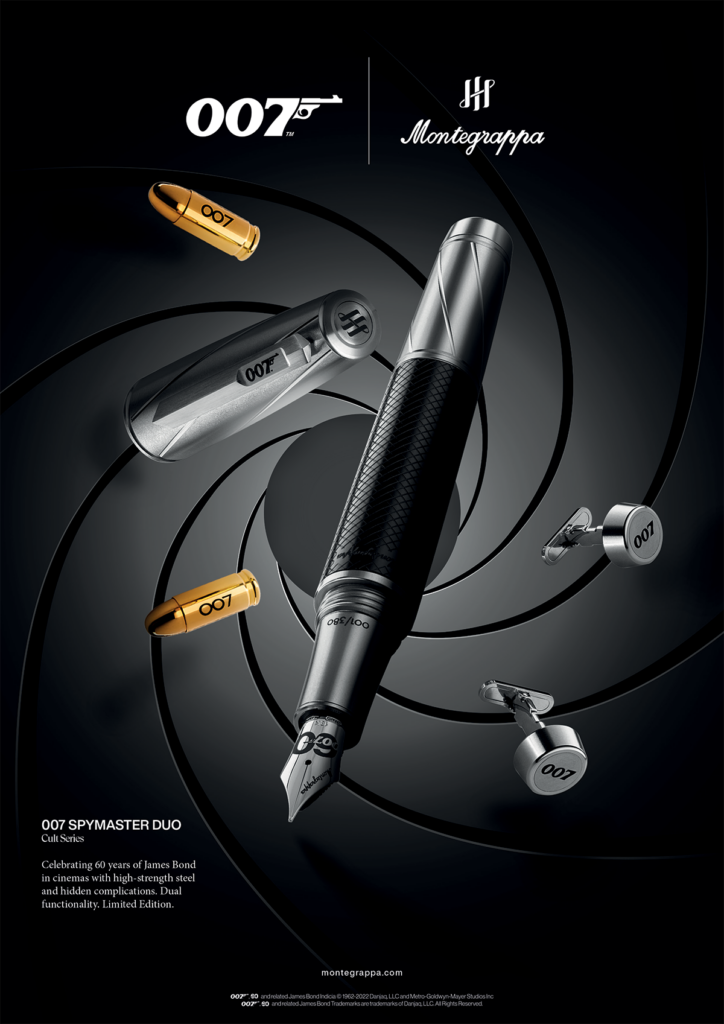 We are excited to reveal a thrilling expansion to our Fandom canon with an explosive new Cult-series Limited Edition. The debut silhouette from a new James Bond family of writing instruments is 007 Spymaster Duo, available to ship around the world from February 2023.
After six decades and 25 blockbuster movies, 007 needs no introduction. The legendary James Bond film franchise celebrates 60 years on 5 October 2022. Our journey with the famous secret agent begins with a flashback to his first movie: the iconic Dr. No, starring Sean Connery.
Our edition connects with an early scene from the 1962 classic, in which Bond is issued with his infamous .380 calibre Walther PPK revolver. This plot point intersects with all elements of product design and presentation. But our edition goes beyond simple homage to embrace spycraft – with two remarkable, concealed mechanical complications and a daringly innovative cartridge-based filling system.
007 Spymaster Duo combines a rifled, grey stainless-steel cap and upper barrel with a knurled lower barrel in black anodised aluminium and a steel grip section. However, like any good tool of the spy trade, its true mischief is kept out of sight. A set of grey steel 007 cufflinks is concealed within the upper barrel, and can be accessed via a special locking mechanism and dummy blind cap.
Fountain pens are even more ingenious, with a revolutionary Swift-Shot filling system developed especially for this edition. A pair of brass ink capsules resemble the Walther PPK's 7.65 mm cartridges, and are refilled using Power-Push hydraulic action and a custom-made reloading pipette supplied in aluminum/steel together with pouring spout and rinsing tube accessories.
Fountain pens are also supplied with twin 007 and 60th Anniversary ink bottles of blue and black ink. An 8mm, 18K ruthenium gold nib (EF, F, M, B, Stub 1.1) also brandishes the James Bond 60th Anniversary logo.
---
Fountain Pen


ISBJN1IC — 007 Spymaster Duo Fountain Pen Extra-Fine — $4,995.00
ISBJN2IC — 007 Spymaster Duo Fountain Pen Fine — $4,995.00
ISBJN3IC — 007 Spymaster Duo Fountain Pen Medium — $4,995.00
ISBJN5IC — 007 Spymaster Duo Fountain Pen Broad — $4,995.00
ISBJN8IC — 007 Spymaster Duo Fountain Pen Stub 1.1 — $4,995.00
---
Rollerball Pen


ISBJNRIC — 007 Spymaster Duo RollerBall Pen — $3,495.00
---
Video Assets
---
Specs