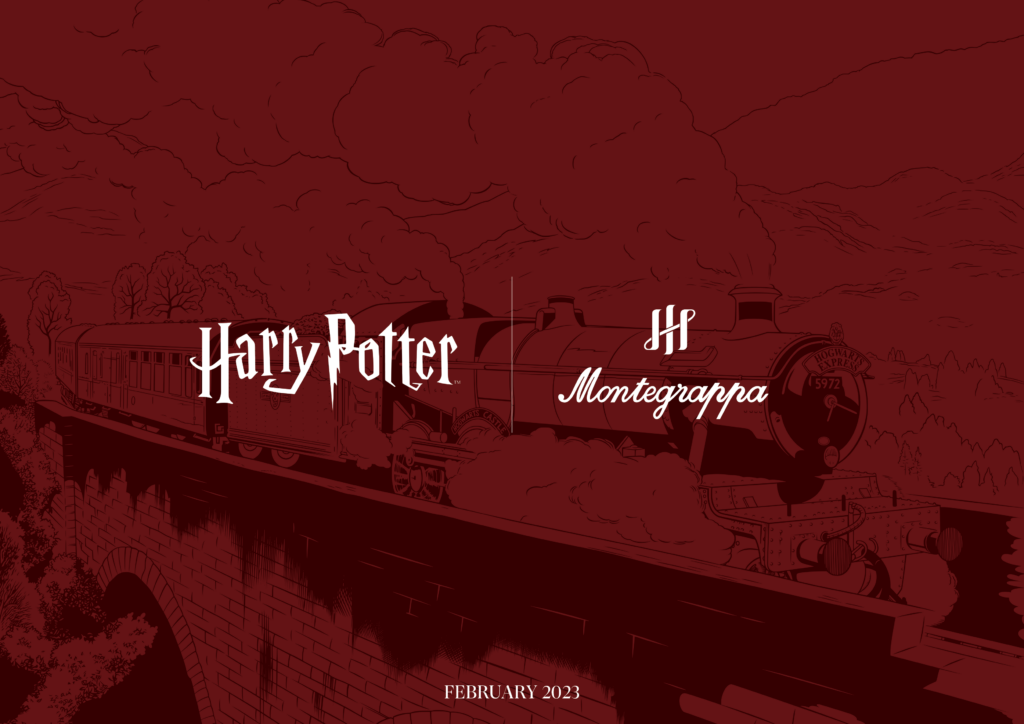 Harry Potter: Platform 9¾ returns to the origins of the Harry Potter story. The mythical platform at London's Kings Cross Station is a location that resonates with all fans of the famous franchise. The place where young, aspiring wizards board the train to Hogwarts School of Wizardry and Witchcraft is also where the young Harry Potter first encounters Ron Weasley and Hermione Granger – his companions through seven bestselling books and eight blockbuster movies.
Materials and proportions from the popular Harry Potter: House Colours collection are carried over into this new, stand-alone silhouette. Stainless steel is rendered with ion-plating, printing and enamelling to adopt the livery of the Hogwarts Express. The world's most famous locomotive is recreated with laser-engraving on the cap, and appears beneath the Hogwarts Railways emblem. An enamelled cap top signposts Platform 9¾ – a gateway to a world of magical adventures.
Fountain pens, rollerballs and ballpoints make up the collection, with fountain pens issued with a 6mm filigree steel nib (EF, F, M, B, Stub 1.1, Stub 1.5) and cartridge/converter filling. Packaging uses the laminated Hogwarts paperboard case supplied with Harry Potter: House Colours, providing authenticity and gifting appeal for pop culture fans of all ages.
---
Fountain Pen


ISHPR1PF—Harry Potter: Platform 9 3/4, Fountain Pen, Extra-Fine—$595
ISHPR2PF—Harry Potter: Platform 9 3/4, Fountain Pen, Fine—$595
ISHPR5PF—Harry Potter: Platform 9 3/4, Fountain Pen, Broad—$595
ISHPR8PF—Harry Potter: Platform 9 3/4, Fountain Pen, Stub 1.1—$595
ISHPR9PF—Harry Potter: Platform 9 3/4, Fountain Pen, Stub 1.5—$595
ISHPR3PF—Harry Potter: Platform 9 3/4, Fountain Pen, Medium—$595
---
Rollerball Pen


ISHPRRPF—Harry Potter: Platform 9 3/4, Rollerball Pen—$585
---
Ballpoint Pen

ISHPRBPF—Harry Potter: Platform 9 3/4, Ballpoint Pen—$575
---
Additional Info