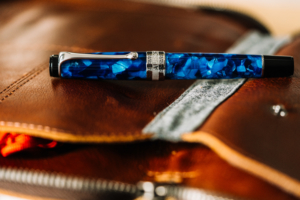 Antique materials and meticulous craftsmanship. Reminiscent of the elegance and sobriety of the historic pen of the Thirties – an authentic legend in its time – the new Optima maintains its unique line and all of its charm to become, once again, a cult object for men and women who know how to choose.
The new Auroloide version of the Optima range has been created using antique materials and features hand-finished trims and great attention down to the smallest detail. It is available in five stimulating colors: marbled burgundy, blue, green, rossa  and nero perla. The line offered is composed by fountain pen, ballpoint pen, rolling ball pen and mechanical pencil versions.
The cap and barrel in all versions are made of marbled Auroloide, an antique material, yet refined and prestigious. The marbled burgundy Auroloide, Nero Perla, and Rossa versions have chrome-plated trims, while those in marbled blue or green Auroloide have gold-plated trims.
The fountain pen features a solid gold nib in all color versions (blue, green and burgundy) and the traditional piston refill mechanism and hidden reservoir.
The Optima Auroloide pens come in a stylish velvet presentation case and, like all Aurora pens, they are on sale at stores that specialize in writing instruments, top stationers and jewelers.
Materials:
* Turned Italian acrylic
* gold or silver trim
Size:
*Pen weight and dimension: Fountain and Rollerball; 0.8 oz, 5.5″x 5/8″, Ballpoint 0.9 oz, 5-1/8″
* Box weight and dimension: 1 lb, 4.9 oz., 8-1/8″w x 5-3/8″d x 2-5/8″h,
Proprietary handmade Aurora nibs: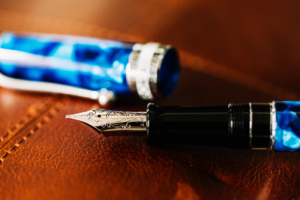 * solid 14k
* eleven stage die casting process
* rhodium plated and molded writing tip
* hand turned ebonite ink feed
* traditional point sizes include extra fine, fine, medium and broad
* custom grinds – Goccia (Tear drop shape designed for Asian style lettering), Extra Flex, Double Broad, Italic, Oblique – $150 up charge
*special feature – removable nib section – the nib section can be unscrewed from the grip area of the pen. This feature allows for thorough cleaning and maintenance of the nib and barrel.
Piston filling system –
* rear knob accesses plunger filling system
* large capacity for ink in the barrel chamber
* Clear ink window
* Hidden ink reservoir – secondary ink chamber serves as a spare ink tank.
Details:
* decorative engraving on the nib
* Laser engraved ring and lacquer filled etching
* historical trademark engraved on the barrel
* fountain pen in Aurora gift box
---
Fountain Pen

Blue Fountain Pen – Model: 996B – $695

Blue w/ Chrome Trim Fountain Pen – Model: 996CB – $695

Burgundy w/ Chrome Trim Fountain Pen – Model: 996CX – $695

Emerald Green Fountain Pen – Model: 996V – $695

Nero Perla Fountain Pen – Model: 996CGA – $695

Rossa Auroloide Fountain Pen – Model: 996CRA – $695
---
Rollerball

Blue Rollerball – Model: 975BA – $495

Blue w/ Chrome Trim Rollerball – Model: 975CBA – $495

Burgundy w/ Chrome Trim Rollerball – Model: 975CXA – $495

Emerald Green Rollerball – Model: 975VA – $495

Nero Perla Rollerball – Model: 975CGA – $495

Rossa Auroloide Rollerball – Model: 975CRA – $495
---
Ballpoint

Blue Ballpoint – Model: 998BA – $395

Blue w/ Chrome Trim Ballpoint – Model: 998CBA – $395

Burgundy w/ Chrome Trim Ballpoint – Model: 998CXA – $395

Emerald Green Ballpoint – Model: 998VA – $395

Nero Perla Ballpoint – Model: 998GCA – $395

Rossa Auroloide Ballpoint – Model: 998CRA – $395
---
Mechanical Pencil

Blue Pencil – Model: 958BA – $395