Among the limited edition series produced by Montegrappa is the Cult Collection, honouring individuals, artists and elements of popular culture. It is with a sense of both delight and mischief that the craftsmen and women at Montegrappa present to you the writing instruments commemorating those swashbuckling adventurers who terrorised those who traversed the Caribbean during the 16th through to the 19th centuries – and who, to this day, provide us with legendary exploits and larger-than-life figures to entertain us in books and films.
Immortalised by writers including Robert Louis Stevenson and Rafael Sabatini, in films including The Buccaneer and the hugely successful Pirates of the Caribbean series, and emulated by any child with a toy sword and an eye-patch, the pirate is one of villainy's most appealing characters. Heroic, or likeable pirates have been exemplified on-screen by Johnny Depp's character, Captain Jack Sparrow, and Errol Flynn's Captain Blood.
Despite the undeniable criminality of the pirates, their wanderlust, independence and rebelliousness have combined to create a fabled period, encapsulated in the past through literature – both fact and fiction – and film. Their look has been emulated by popular performers, defining the style of Adam Ant in the 1970s and the Rolling Stones' Keith Richards long before he portrayed a pirate on-screen. And while piracy remains a real concern in the 21st century, there is no doubt that the buccaneer will forever fascinate lovers of adventure.
Offered as piston-fed fountain and rollerball pens, the Pirates writing instrument is made in Charcoal Black celluloid and a die-cast precious metal barrel and cap. This impressive masterpiece has been produced in both Sterling Silver with yellow gold details, and solid 18k yellow gold, embellished with an array of symbols that have defined the buccaneer for six centuries.
Brimming with intricate details, the barrel and cap bear the grinning skulls and bones known as "the Jolly Roger", with the crossed bones this corsair's hat, and a sword serving as the pen's pocket clip. Festooned with the ropes and chains essential to seafarers, the Pirate pens also feature ships in full sail and a representation of the mermaid Syrena, whose fate was interwoven with the notorious pirate, Blackbeard.
Limited to 399 fountain pens and 399 roller balls in silver, and nine of each in gold, the number recalls the nearly 400 tons of gold treasure that William Kidd, one of the most famous of all the pirates, is believed to have buried in various spots around the globe, from Gardiner's Island in New York to Île Sainte-Marie in Madagascar.
Fitted to the Pirates fountain pen is a nib made of 18 k gold, offered in the three writing grades of Fine, Medium and Broad. It is embellished with a Jolly Roger pattern. Each Pirates pen arrives in its own "treasure box" finished in red lacquered wood, with black interior.
---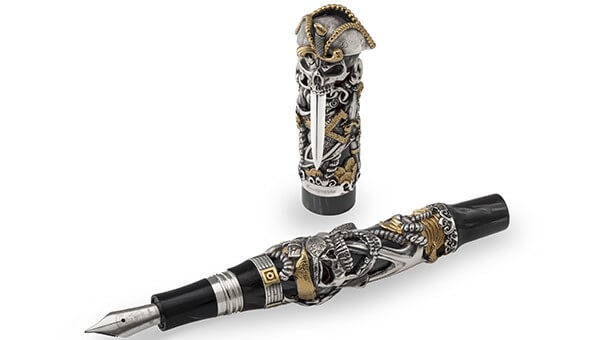 Pirate Fountain Pen, Silver – Model: ISCUP_SC – $5,770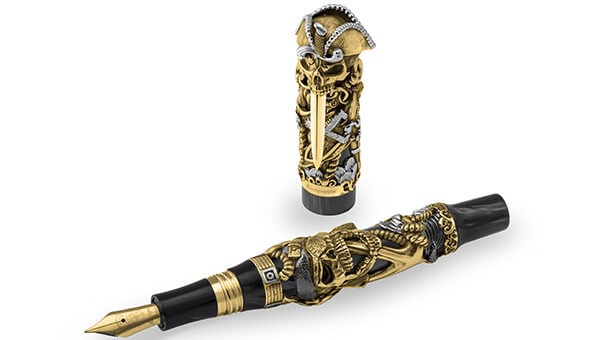 Pirate Fountain Pen, Gold – Model: ISCUP_GC – $65,700
---
Rollerball
Pirate Rollerball, Silver – Model: ISCUPRSC – $4,965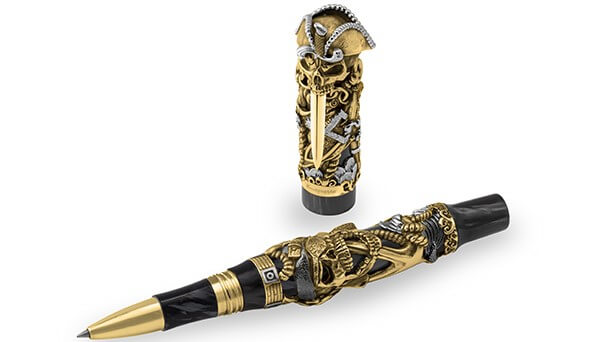 Pirate Rollerball, Gold – Model: ISCUPRGC – $69,350