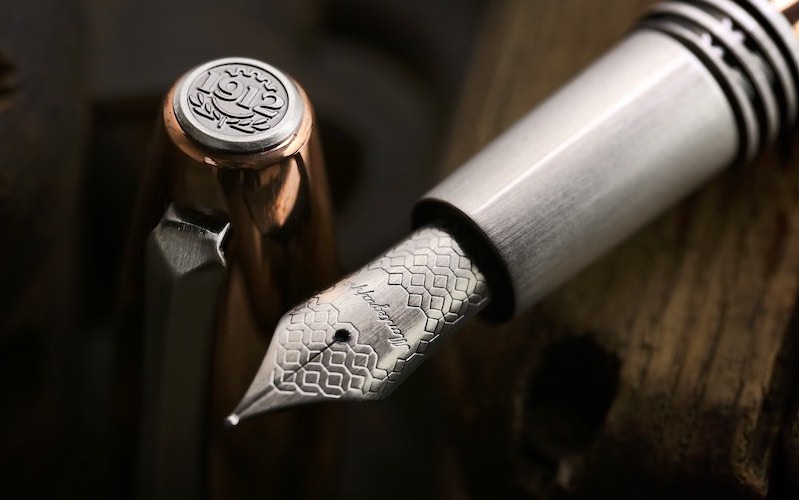 What your nib says about your personality
Choosing a nib for your fountain pen is like getting dressed in the morning; the nib you use is as much a part of expressing your individuality and creativity as the clothes you wear. From the nib's materials, to its shape and size, the way your nib writes can say a lot about your personality. In fact, the way your fountain pen writes can indicate more about who you are than the style of the pen itself.  
Let's take a look at some of the nib's most important characteristics and how they reflect the character of those who use them. 
Nib Size
The size of the nib determines the thickness of the line the pen produces—the wider the tip the broader the stroke it produces. Typical sizes include extra fine (EF), fine (F), medium (M) and broad (B), though there are others as well. Today there is wide popularity with flexible nibs, which are kind of hybrid line from fine to broad depending on how one applies pressure to the nib. Like choosing the right tie or shoes for the day, choosing a point can also be decided by a person's mood or plans for how he or she intends to write.  
Now, it'd be a mistake to say that the larger the size, the bigger the personality. However, each size does offer unique differences in how the writer expresses him or herself. For example, extra fine is an excellent choice for those who prefer delicate details, while flex or italic may be ideal for those who like to write expressively. Extra fine and fine points are most popular these days and are used in a variety of applications like bullet journaling, note taking, and sketching. Certainly, broad nibs are great for those who want to capture bold ideas, where medium nibs are perfect for communicating through daily writing and thank you notes. 
Nib Materials
Today's nibs are commonly made out of stainless steel or 14k and 18k gold. While the materials have less impact on how they write, they can suggest different aspects of a person's life. It's important to know that stainless steel nibs have dramatically improved in touch and 
performance over the years, while solid gold points still carry a higher value to the pen and sometimes even the writer.  
Those who want to articulate everyday with practicality most often opt for stainless steel, while those who prefer to subtly express their individuality and elegance might select for gold. Many pens with gold nibs may feature more sophisticated design characteristics and engraving details. 14k nibs tend to offer more flexibility than steel nibs and provide a nice aesthetic and ornate sophistication. Moreover, many limited edition pens often feature an 18k gold nib as a feature that makes them unique. It should also be noted that gold nibs typically feature an ebonite feed, which is the preferred material for channeling the ink from the reservoir to the point. 
To be sure, there are many varieties of nibs available today, and while the nib one person chooses may reflect their personality, there's almost no reason why they can't change based on their moods. Whether you want a fountain pain for fine calligraphy, to capture your deepest thoughts, or to emphasize your status, there's a nib that's right for you. 
Looking for the perfect fountain pen that showcases your personality? We offer a wide selection of fine writing instruments to suit the needs of those with discerning tastes.