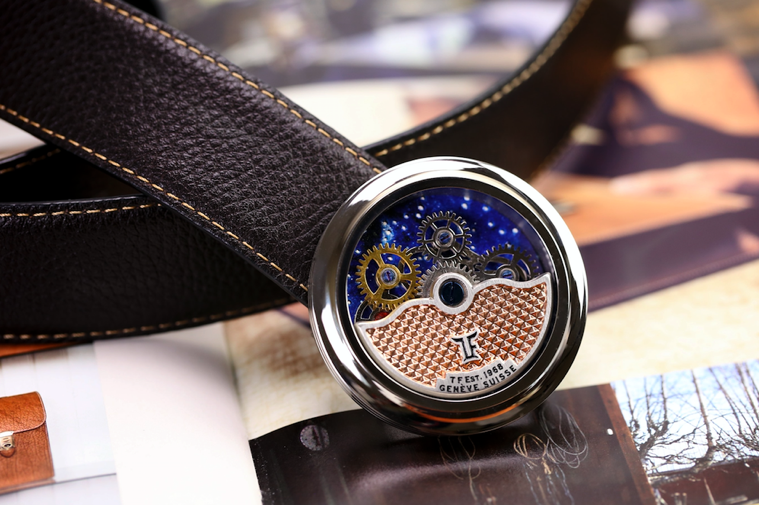 Which will it be? Tradition or modernity? Eccentricity or good sense? Provocation or appeal? Faced with such choices, TF Est. 1968's new offerings allow the answer to be, quite simply, "why not both?"
***
"We don't have typical clients so much as a type of client: people with style; people who exude polished elegance right down to the smallest detail." So said Freddy Tschumi, Founder of T F Est. 1968, as he unveiled the brand's 2017 collections live from Baselworld – and "style" is indeed the key word here. T F Est. 1968 delivers multiple combinations of provocation, appeal, and urbanity, conveying an equally broad range of whims and moods.
The Clou de Paris pattern – a finish that's a hallmark of fine watchmaking – has now made a place for itself in TF Est. 1968 collections, more particularly with two new creations of cufflinks and belt buckles.
The Clou de Paris finish is known and admired by watch-lovers: creating inimitably brilliant reflections of light, it's also highly evocative of manufacture craftsmanship. From the eighteenth century onwards, it became an integral feature of the pieces produced by master watchmakers. And now it's been put to good use on the oscillating weights in the very latest T F Est. 1968 collections. The weight glides over a unique horological composition: above a starry blue background that serves as a reminder of the impact of astronomy on all things watch-related, a subtle choreography of gears is set in motion – just like a real Swiss manufacture watch movement.
The emblematic colours of the watchmaker's art are in evidence too, with brass and blued screws – a finish that's distinctively characteristic of prestige timepieces. Watch connoisseurs will also note the jewel bearings located at the centre of the wheels: historically, these ensured the train operated smoothly.
Both collections come in a new housing: a combination of 916L steel, the highest standard of steel strength for everyday use, and a genuine 5-micron rose gold finish, also reminiscent of the precious metals used in Haute Horlogerie.
In both cases, the authentic movements, assembled at La Chaux-de-Fonds, sport oscillating weights that fit right in with the T F Est. 1968 style: they are mobile, coming to life and rocking back and forth, just like a genuine watch rotor, at the slightest movement of the wrist or waist. Owners can thus enjoy all the atmosphere and animation that's typical of genuine Swiss Made timepieces.
Be stylish !