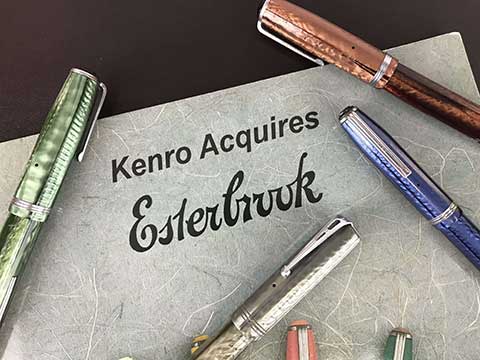 MINEOLA, April 9, 2018— Kenro Industries, Inc., has reached an agreement to acquire the Esterbrook Pen Company and add the iconic brand to its portfolio of luxury lifestyle brands. Terms of the Transaction were not made public.
Originally founded in 1858, the Esterbrook Pen Company was revived in 2014 by Harpen Brand Holdings, LLC.  America's Original Pen Company, Esterbrook pens have literally written American History. Used in the White House by such Presidents as Abraham Lincoln, Franklin D.  Roosevelt, Harry Truman, John F, Kennedy and Dwight Eisenhower, the Esterbrook brand is revered worldwide.
Esterbrook will join Kenro Industries, a leader in the marketing and distribution of luxury lifestyle brands, which include Aurora and Montegrappa writing Instruments and U Boat Watches. "We are excited to add the Esterbrook Brand to our portfolio and look forward to expanding the brand globally with an extensive new line of fine writing instruments" said Joel Blumberg, CEO of Kenro Industries.
Robert Rosenberg, the founder of Harpen Brand Holding's LLC will join Kenro Industries and will be working with the Kenro team in continuing to build the Esterbrook brand in both the North American and International markets. " I could not have found a better fit then Kenro to take the reins of the  Esterbrook brand.  The company is well respected throughout the industry and their success in building luxury brands is well established", said Robert Rosenberg, Founder of Harpen Brand Holding's, LLC.
Here are two great links to get you on the same 165 year old page as Esterbrook:
1. The Esterbrook Media Kit
2. The Esterbrook Official Website
For further Information, contact:
Kenro Industries, Inc
393 Jericho Turnpike
Suite 2
Mineola, NY 11501
Tel: 516-741-0011
www.kenroinc.com