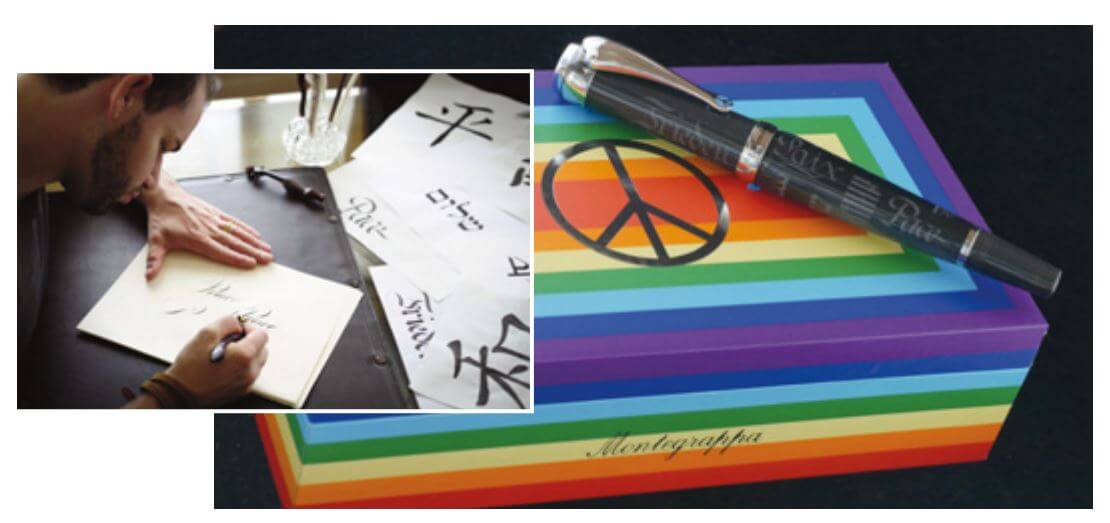 A collaboration between Italian penmaker Montegrappa and Jake Weidmann, a highly accomplished American Master Penman and artist, was a natural. Both are passionate about handwriting, exceptional craftsmanship, aesthetics, and community engagement. When Montegrappa tapped Weidmann to create the calligraphic artwork for a pen dedicated to peace, he enthusiastically embraced the challenge.
The Pen of Peace was launched in August at the Washington D.C. Fountain Pen Supershow, where Weidmann was a special guest of Montegrappa's U.S. distributor, Kenro Industries. Weidmann gave samples of his calligraphy art to show attendees and hand-engraved Montegrappa pens using engraving tools powered by a foot pedal. Bryant Greer of Chatterley Luxuries won a drawing for a copper Fortuna Mule pen that Weidmann engraved with elaborate scrolls and flourishes.
A resident of Denver, Colorado, Weidmann will also be a guest of Kenro Industries at the Colorado Pen Show, October 6-8, at the Doubletree by Hilton Denver-Stampleton North.
The concept for the Pen of Peace evolved during a meeting hosted by Montegrappa for company representatives from Israel, Lebanon, Iran, India, and United Arab Emirates, and other countries. Reflecting on the current world turbulence, the group liked the idea of creating a pen dedicated to peace, recalling the adage, "The pen is mightier than the sword." The group agreed on the internationally recognized peace symbol was designed by British designer Gerald Holtom in 1958 by Vietnam War protesters and counter-culture activists.
Weidmann, the youngest and one of only 12 Master Penman in the world, was commissioned to write the word "peace" in 15 different languages. "My goal was to create a beautiful mosaic of different languages that was both stylistically worthy and accurate," Weidmann told PW during an interview at the D.C. show.
Weidmann continues, "This project involved learning other languages and cultures and was a stretch from my usual hunting ground," said Weidmann, who creates calligraphy art in a variety of media, from paper and ink to wood and leather.
"I wanted to show not only the correct letter forms for the various languages but also the penmanship techniques and traditions of each culture," he explained. He used a hollowed-out reed to write in Semitic languages, a brush for Asian languages, and a dip pen for Western writing.
According to Weidmann, the magical part of the project came from communicating with people from all over the world through social media. "I invited people to follow my progress by posting my interpretation of the word 'peace' in the different languages. I received excellent feedback from more than 122,000 followers on Instagram. Sometimes people from different cultures would make suggestions regarding the letter forms for their language, and we would get involved in a conversation. Because the subject was peace, everyone was kind and friendly."
Weidmann's calligraphy executed in subtle blue-gray ink, was transferred to the Pen of Peace's dark blue acrylic cap and barrel, which has a graceful curved profile. The peace symbol is engraved in silver on the cap top and filled with light blue enamel. Encircling the cap top is a silver band laser-cut with a stylized pattern of children holding hands in a circle for peace. The peace symbol is repeated at the tip of the elegant fluted silver signature clip. The Pen of Peace features a unique mechanism fitted with micro ball bearings that allow the barrel to rotate so the user can position his or her language of choice at the front of the pen, aligning it with the clip.
In honor of the year in which the peace symbol was created, the Pen of Peace is limited to 1,958 pieces each in ballpoint, rollerball, and cartridge-converter fountain pen with an 18 karat gold nib embellished with an image of the Dove of Peace.
Peace movements depend on words spoken and written. Mandela, King, Lincoln, Gandhi all depended on the notion that the pen, when wielded correctly, is mightier than the sword. Montegrappa and Weidmann's Pen of Peace embodies that profound notion in every graceful swirl of script and every sleek line of stylus.