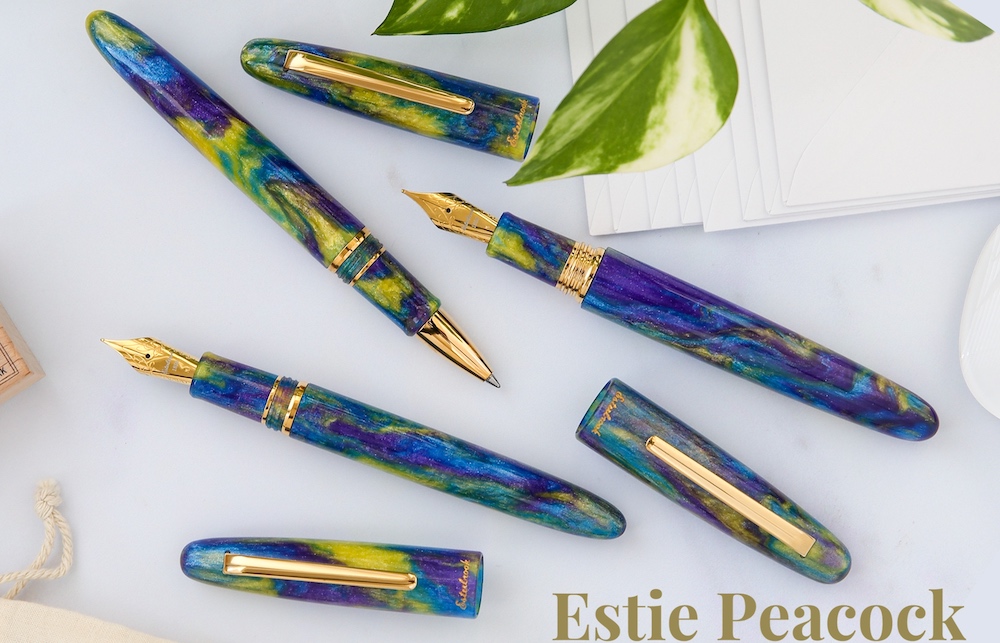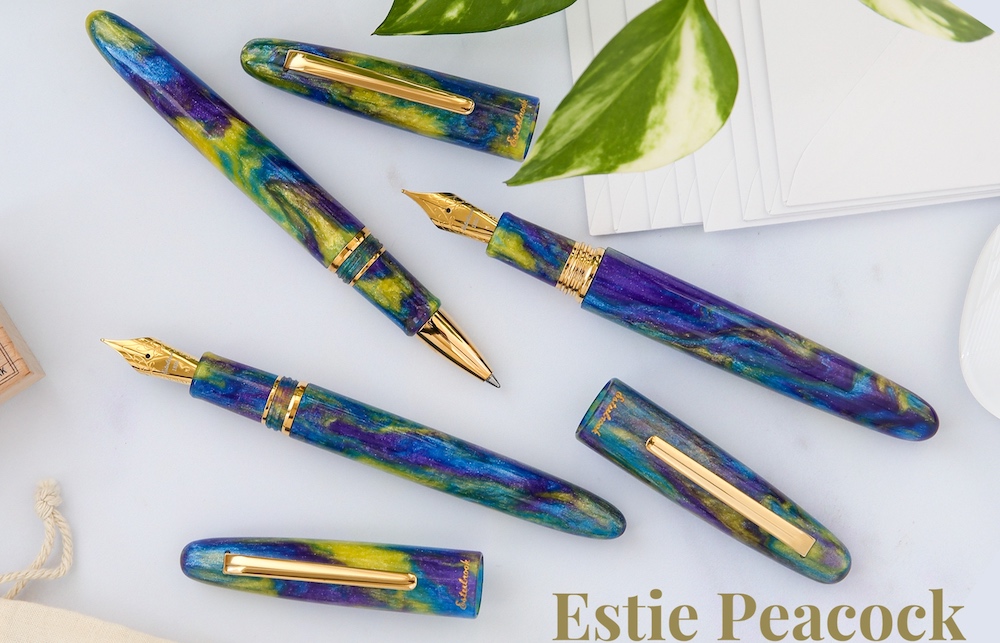 Estie Peacock
Introducing our most regal Estie to date: the Estie Peacock.  
For this Estie we turned to the Peacock's fabled place in the mythology of India, where the Peacock has been revered for thousands of years.  
The pride of the peacock has long been depicted in temple art, writings and music. The peacock's place in Indian folklore cannot be overemphasized: one of the most important deities, Lord Krishna was known to have adorned his head with the peacocks' feathers and in illustrations of Shiva, the God of War, he is often accompanied by the peacock as a sign of strength. The peacock symbolized wisdom, royalty and power and it still does today, as the national bird of India. 
To illuminate the magnificent colors of the peacock, the Diamondcast material for these writing instruments was developed in collaboration with McKenzie Penworks and gleams just like the glimmering feathers of this majestic bird. Available in rollerball, standard and oversized fountain pens, the Peacock Estie is available in extremely limited quantities, making it just as rare as the glorious avian it represents.   
Available in Oversize fountain, traditional fountain size and rollerball. All trim and appointments are gold plated and standard nib sizes apply, including EF, Fine, Medium, Broad, 1.1 Stub and the Custom Journaler. The "Journaler" nib has a $50 upcharge.
Esterbrook endures. 
---
Features
Comfortably balanced fountain pen in a complete range of points for the way you write
Nib size/point size extra fine, fine, medium and broad – Specially manufactured in Germany by Jowo
Blended and turned acrylic made with a mix of colors and a high polished finish
Cushion cap closure provides a secondary seal to ensure a wet point
Ink is filled by a cartridge of ink or a converter, which acts like a syringe to draw ink from a bottle
Sleek palladium clip that provides a clean accent for the cap and slides easily to ones shirt pocket
Specifications
Weight: 24g overall
Measurements: 5.9″ closed, 5″ open, 6.7″ posted
Jowo #6 nib
Regular size Fountain Pen




ESPP20 – Peacock regular size Fountain Pen – EF, F, M, B & 1.1 stub – Retail: $350  – SOLD OUT
---
Regular size Rollerball Pen




ESPP17 – Peacock regular size Rollerball Pen – Retail: $350  – SOLD OUT
---
Oversized size Fountain Pen




ESPP10 – Peacock Oversize Fountain Pen – EF, F, M, B & 1.1 stub – Retail: $395 –  SOLD OUT
---
---
Call or email us for more information: