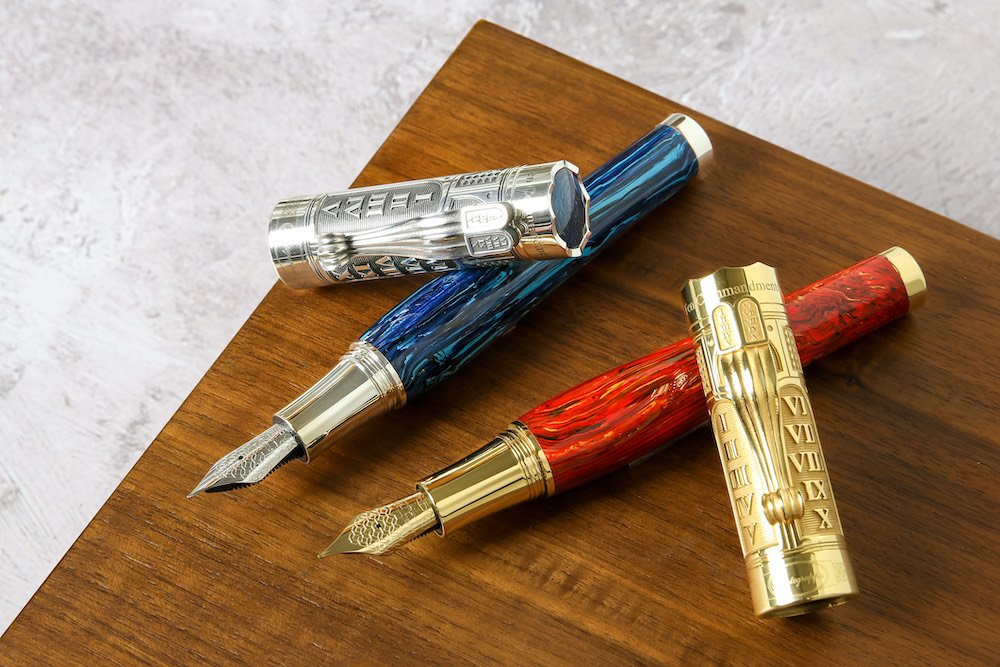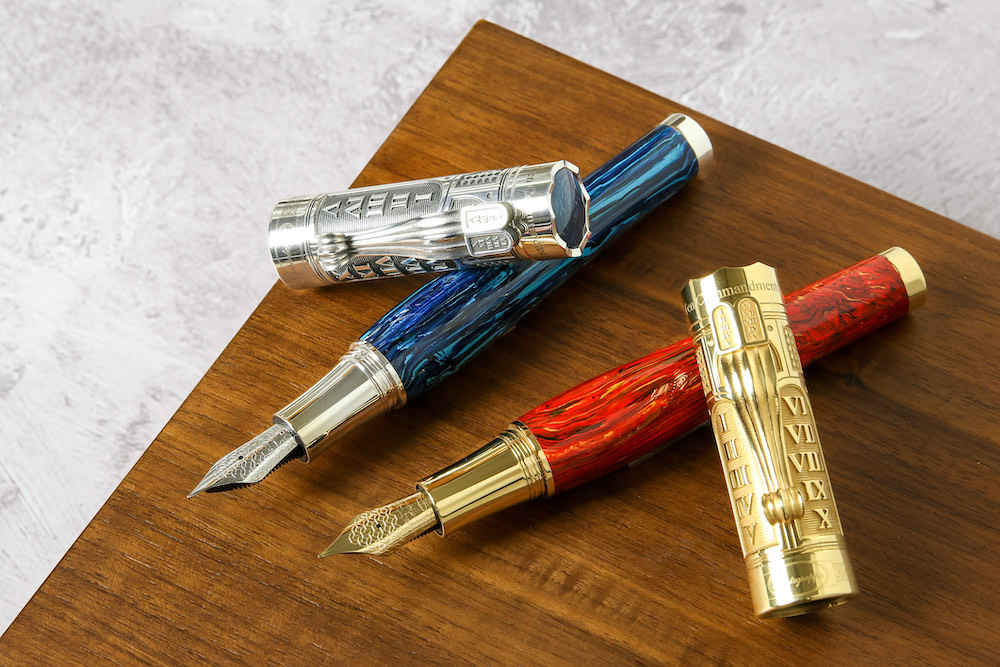 THE TEN COMMANDMENTS L.E. 
Biblical proportions 
  A new objet d'art from Montegrappa combines radiant textures and precious metals in celebration of divine authority. A meticulous lost-wax casting of Moses upon Mount Sinai is surrounded by Judaic and Christian motifs from Europe's leading religious and cultural sites. A pocket-clip inspired by Michelangelo and a barrel carved from artisanal resin are luxurious counterpoints to pious design and craftsmanship.
 Every pen tells a story. The figure of the prophet from Gustave Doré's 'Moses Breaking the Tablets of the Law' is framed by ornamentations from the Spanish Synagogue in Prague. Features from Michelangelo's Moses at Italy's Church of San Pietro in Vincoli are interpreted into a clip that stands majestically above shimmering, hand-carved lengths of Montegrappite. This exclusive new artisanal resin offers confident handle, while avoiding the sins of conventional industrial acrylics. 
 Handmade from precious metals and Montegrappite, The Ten Commandments L.E. is a small-batch Special Edition that celebrates shared beliefs. Its cross-denominational design is realized using the very best of ancient and modern Italian craftsmanship.  
 The centerpiece of the L.E. design is a cap/clip ensemble symbolizing aspects of Judaic and Christian worship. Lost-wax casting depicts Moses on Mount Sinai from Gustave Doré's 'Moses Breaking the Tablets of the Law', framed by ornamentations from Prague's Spanish Synagogue. Miniature stone tablets anchor a clip inspired by Michelangelo's sculpture of Moses at the Church of San Pietro in Vincoli. The Ten Commandments is engraved into the crown in both Hebrew and English.  
 The pen's finial disc and barrel are carved from Montegrappa's new proprietary artisanal resin. Boasting shimmering optics and confident handle, Montegrappite is made by hand only miles from Italy's home of handwriting. Small batches are patiently mixed, poured and cured, before lathing reveals textures only nature can design. Boutique production repays the favor, ensuring less wastage and new recycled blends. 
Limited Edition of 100 pieces of each color fountain pen & 25 of each color in Rollerball
Limited-edition fountain pens are equipped with Montegrappa's patented piston-fill and supplied with an 8mm 18K gold filigree nib with ebonite feed.
Available in EF, F, M, B, BB & 1.1 Stub nib sizes.
---
Fountain Pen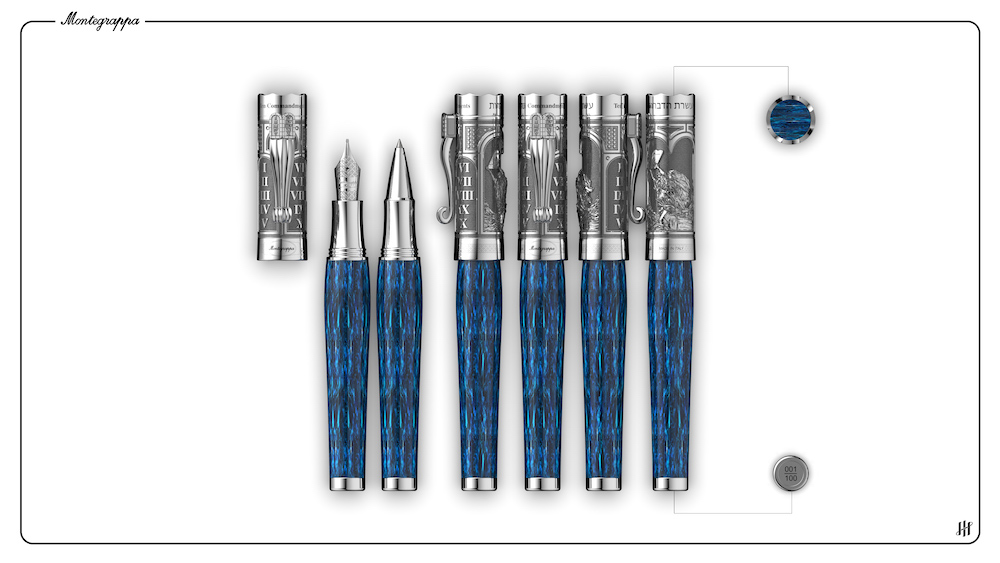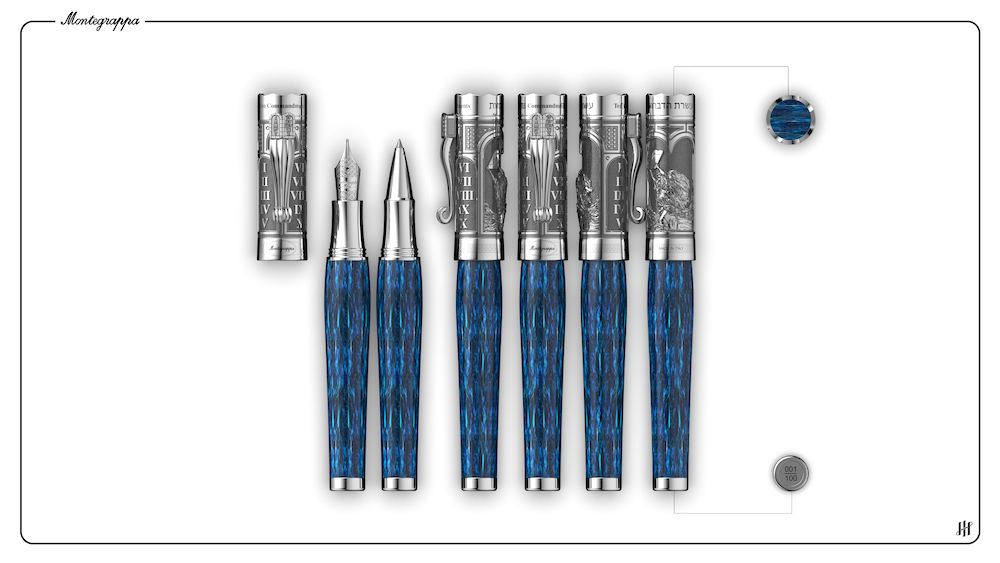 Ten Commandments Blue / Sterling Silver Fountain Pen – Model: ISTCN_AB  – $3,995
Ten Commandments Blue / Sterling Silver Rollerball Pen – Model: ISTCN_AB  – $3,495
---
Rollerball Pen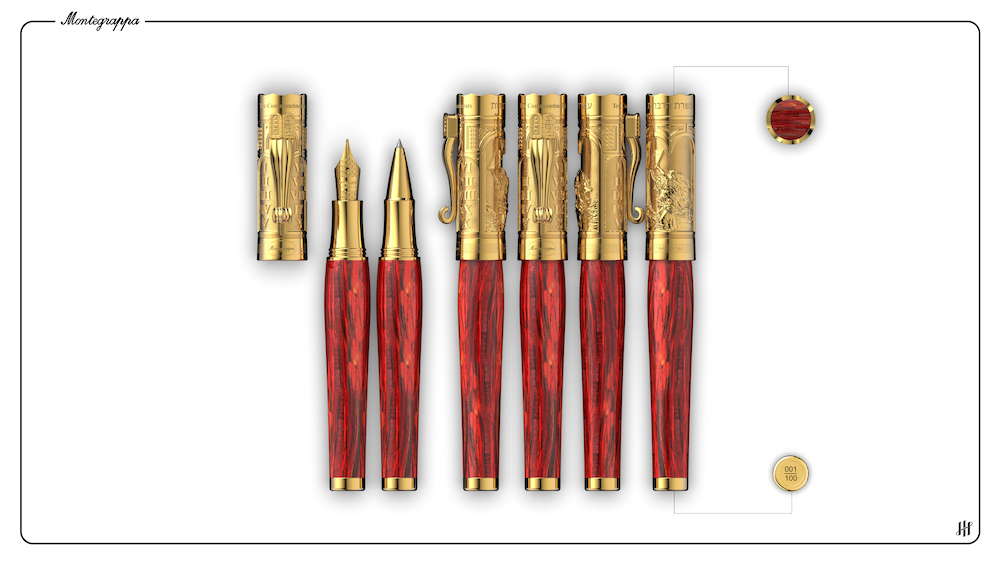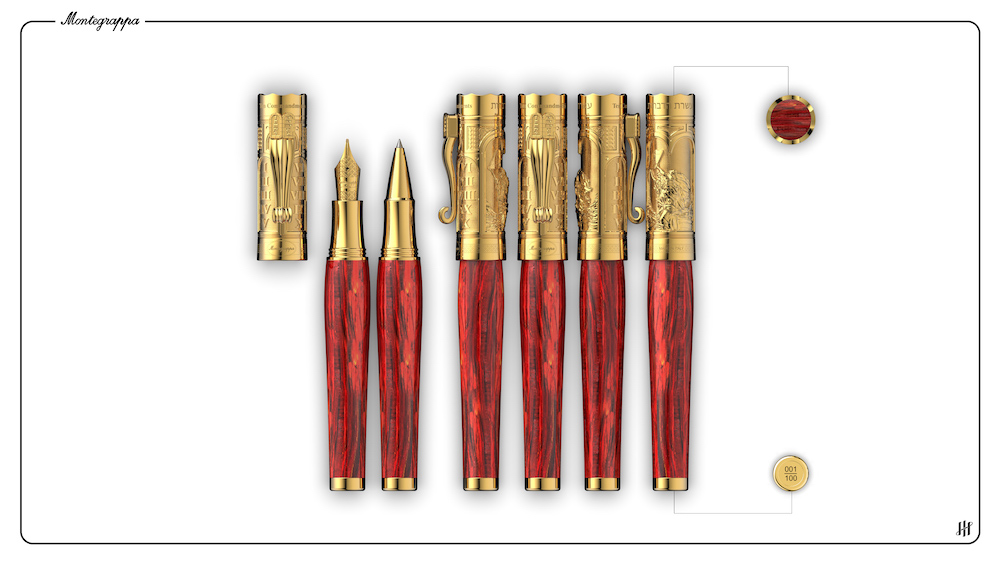 Ten Commandments Red / Vermeil Fountain Pen – Model: ISTCN_AR – $4,495
Ten Commandments Red / Vermeil Rollerball Pen – Model: ISTCNRAR – $3,995
---
---
See the open edition
HERE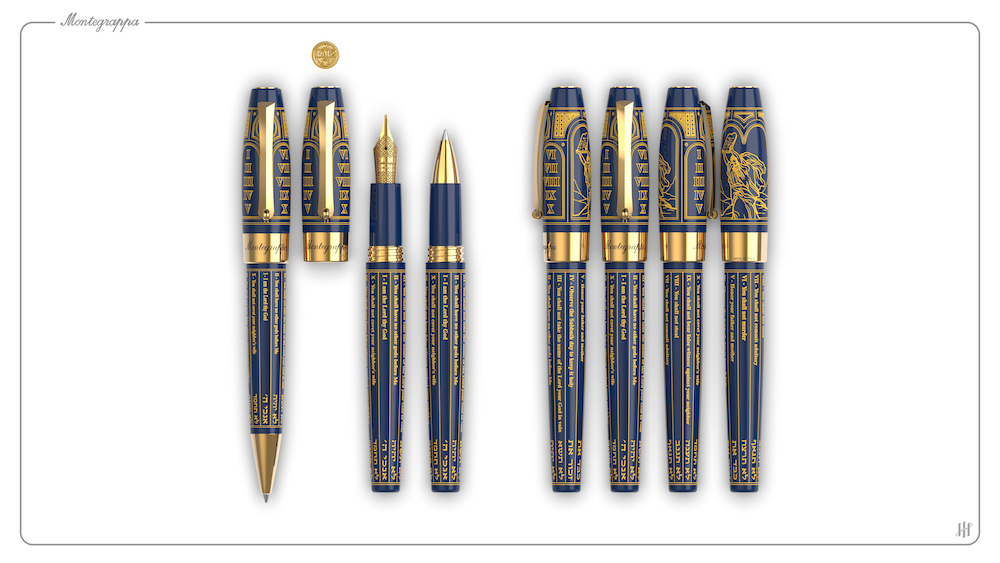 Call or email us for more information: