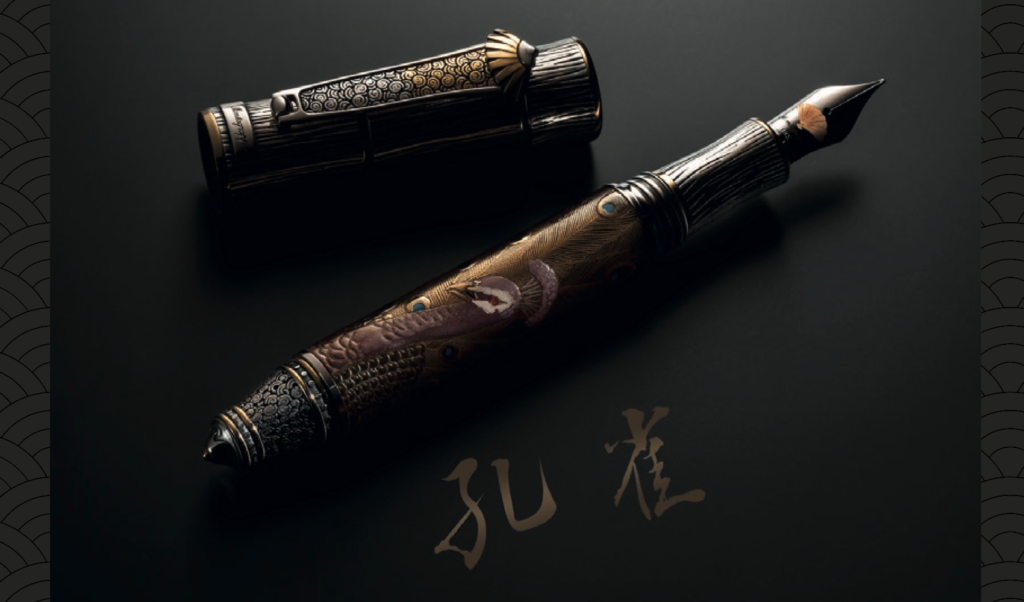 Montegrappa KITCHO LE Collection
SOLD OUT – NO LONGER AVAILABLE
Montegrappa and Zohiko join hands in the name of good fortune. The kitcho writing collection brings a menagerie of talismanic creatures to life using the mystical, delicate art of maki-e.
Two dynasties of ancient craft converge in an ultra-rare series of Italian writing instruments. Inspired by Japanese artistry and folklore, kitcho is a luxurious expression of luck, vitality and prosperity.
Founded in Kyoto in 1661, Zohiko is Japan's leading exponent of luxury lacquerware. Every kissho monyo artwork created for kitcho has been selected and realised under the supervision of 10th generation owner, Tsuyoshi Nishimura
Handcrafted by master-artisans in Kyoto and Bassano del Grappa
Sterling-silver bamboo body, with vermeil and enamel detailing
Breathtaking urushi lacquer brushwork and maki-e applied to a lathed acrylic barrel
8-millimetre, 18K gold two-tone nib with ebonite feed and patented piston-fill mechanism
8 hand-lacquered editions, issued in individually numbered series of 8 pieces
In a year when Japan and its cultural treasures are on centre stage, Montegrappa releases the Kitcho collection. This collection is created in collaboration with the Kyoto-based imperial lacquerware atelier Zohiko and consists of eight master-crafted fountain pens. The Japanese word 'kitcho' means 'lucky omen', so the pens are decorated with eight hand-painted depictions of animals and mythical creatures associated with luck in Japanese culture:
Hebi (Snake)
Houou (Phoenix)
Koumori (Bat)
Kujyaku (Peacock)
Shishi (Lion)
Suzume (Sparrow)
Tora (Tiger)
Tsuru (Crane)
The barrel ornamentations belong to a genre known as kissho monyo and are realised by hand in Zohiko's atelier in Tokyo, using urushi lacquer and maki-e techniques. Every kissho monyo artwork created for Kitcho has been selected and realised under the supervision of the 10th generation owner, Tsuyoshi Nishimura. The lacquered parts are transported to the Montegrappa facility in Bassano. There they are completed with elaborately detailed sterling silver pen, created by lost wax casting and detailed with vermeil and enamel filling. The elements featured in the design are Take (bamboo, a symbol of strength), Ougi (fan, symbol of growing success) and Uzu (vortex patterns, symbol of vitality, power and prosperity).
The pens have a piston filling mechanism and are equipped with an 18K bimetallic gold #8 nib decorated with another fan, which is available in medium only.
Since the number 8 is also considered a sign of good fortune, each pen design is available in numbered, limited editions of eight pieces. The pens are available from the end of September 2021.
Italy's first pen producer, Montegrappa, began manufacturing pens in 1912 in its factory in Bassano del Grappa in Italy. Utilizing natural celluloid and precious metals, Montegrappa combines traditional methods such as die-casting with more recent innovations as low-relief engraving to form their precious art objects. Whether Montegrappa use colors reminiscent of the master painters or ornamentation suggestive of Baroque palaces, the Italian heritage and romance is infused into each product.
---
Lion






LION – Model: ISKIN_01 – $19,995
---
Sparrow






SPARROW – Model: ISKIN_05 – $19,995
---
Tiger





TIGER – Model: ISKIN_02 – $20,995
---
Crane






CRANE – Model: ISKIN_07 – $17,995
---
Snake






SNAKE – Model: ISKIN_06 – $20,995
---
Phoenix




PHOENIX – Model: ISKIN_04 – $21,750
---
Bat






BAT – Model: ISKIN_03 – $17,250
---
Peacock






PEACOCK – Model: ISKIN_08 – $22,750
---
Details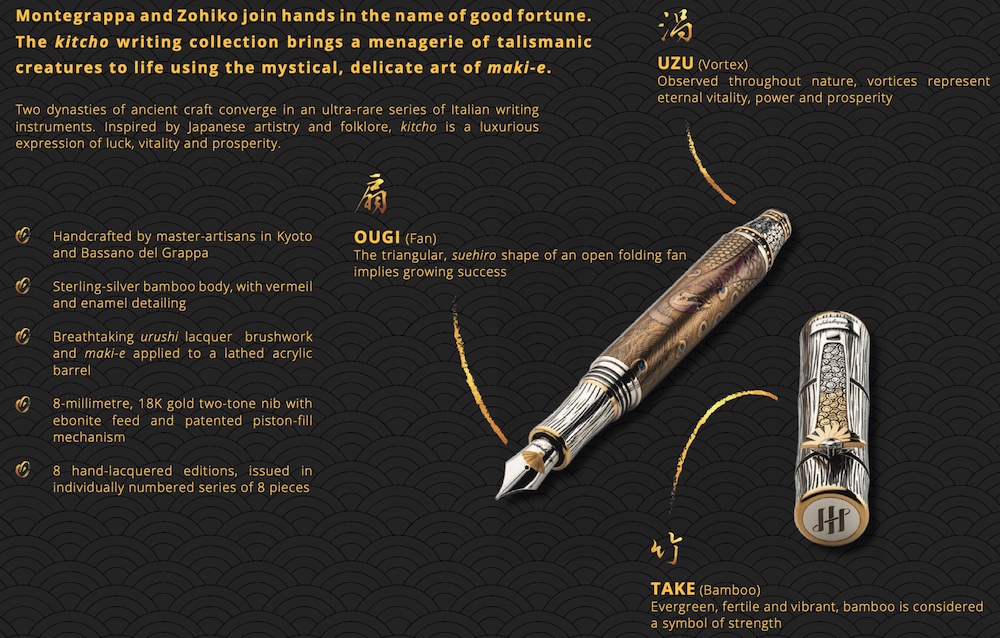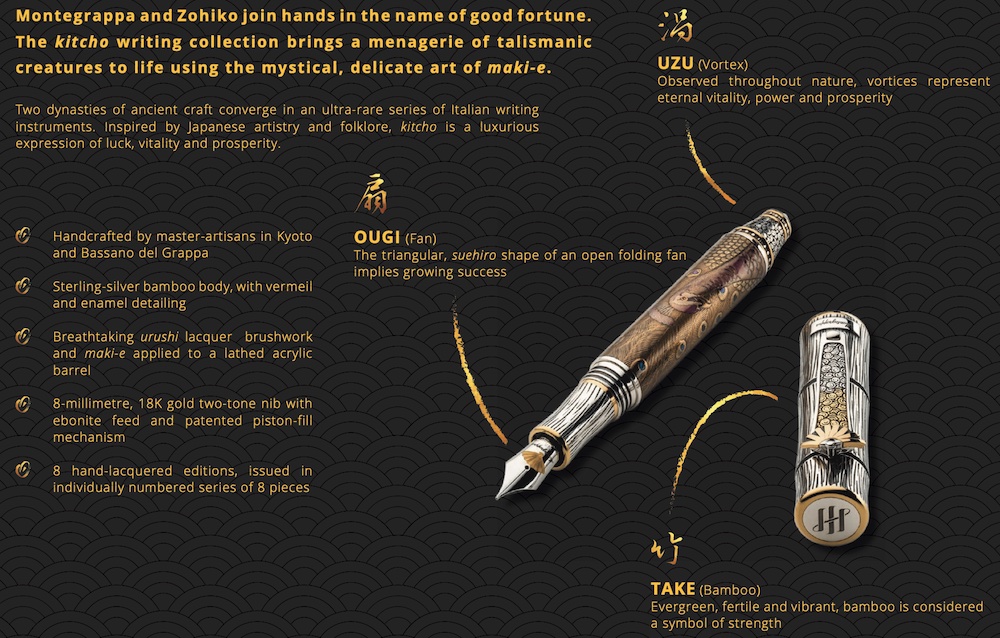 ---
Set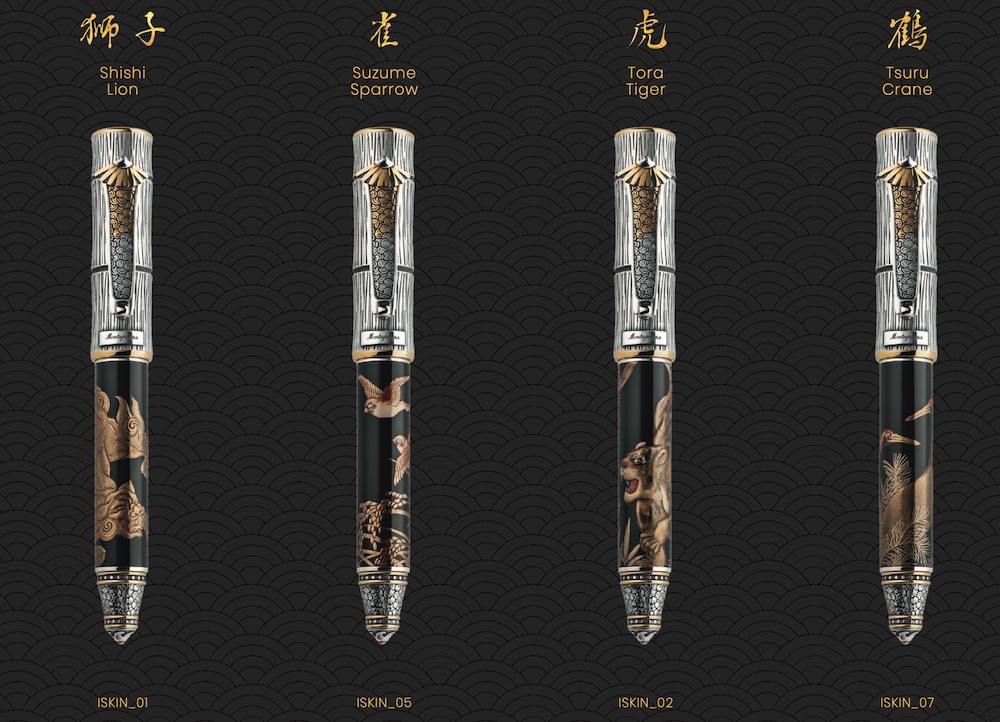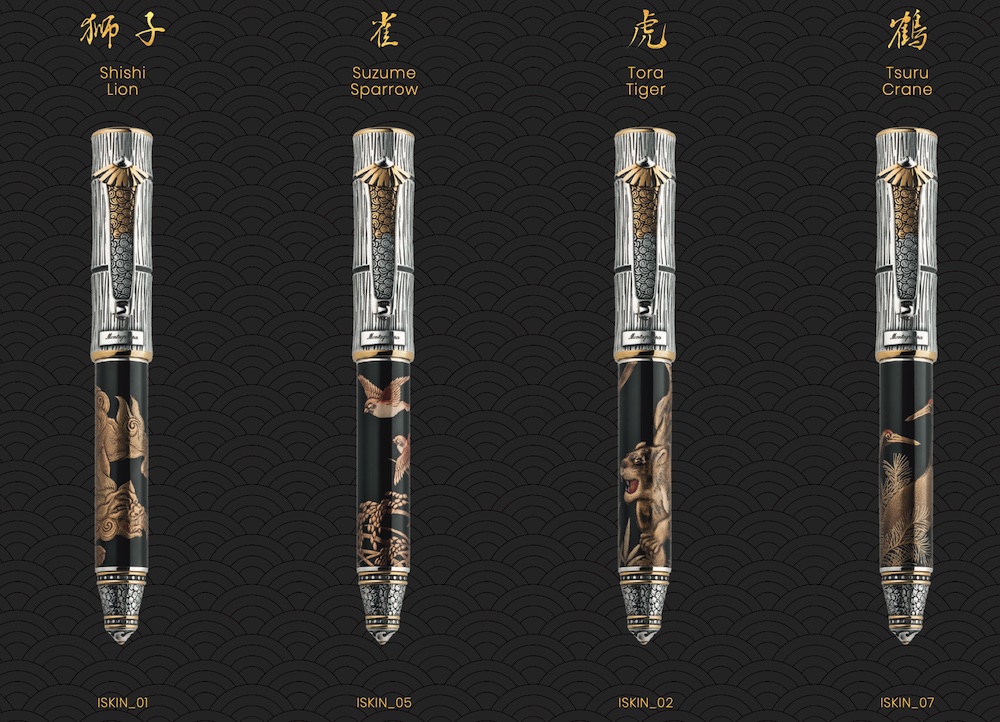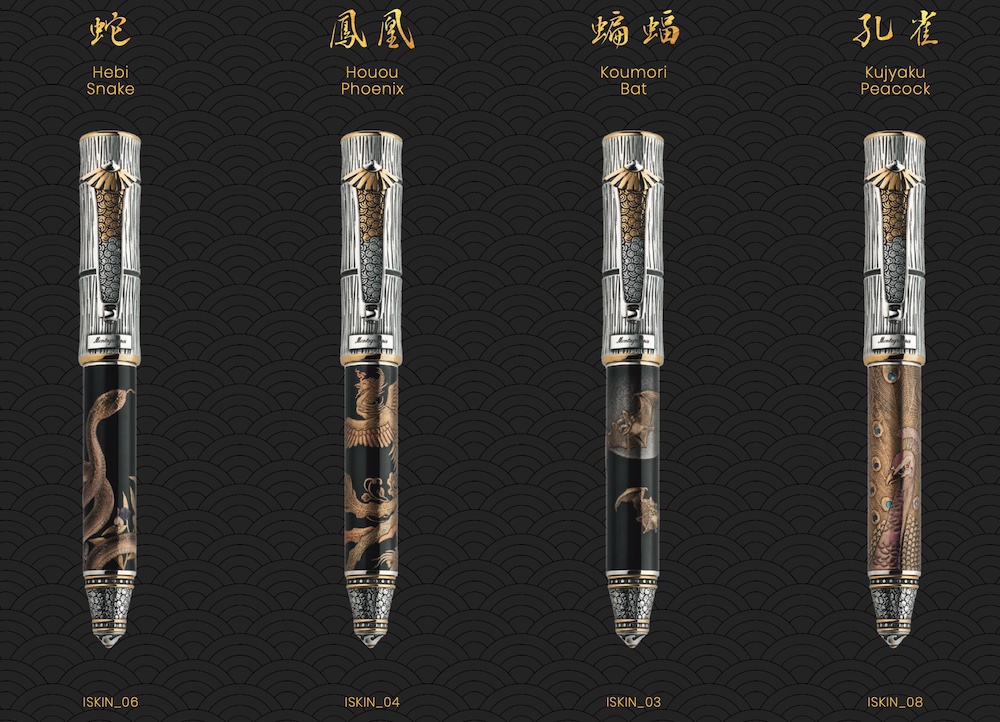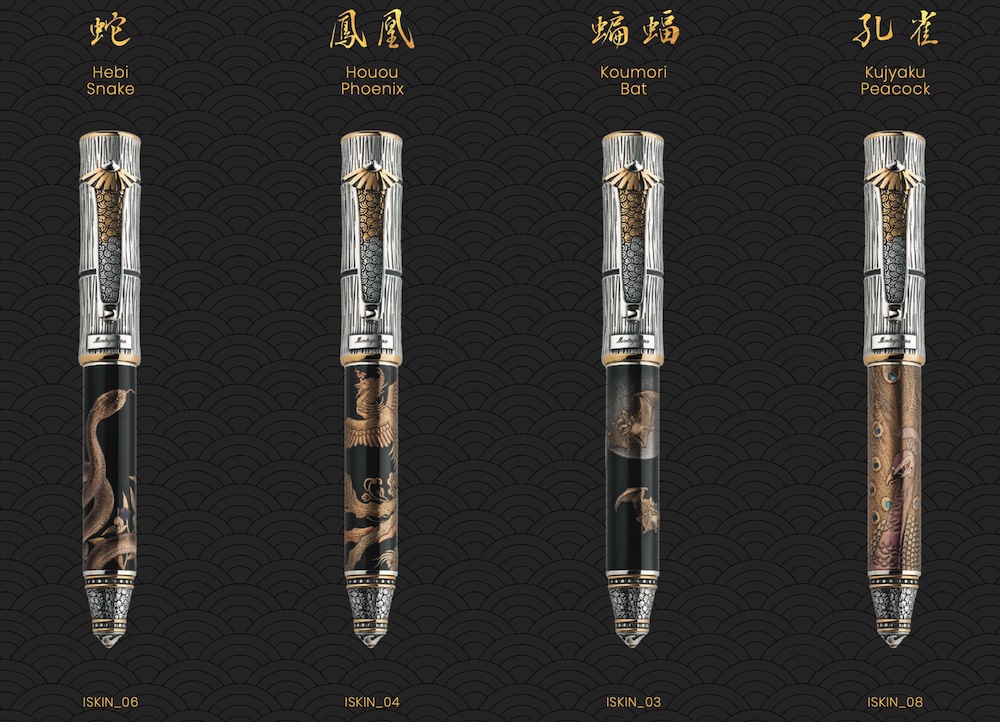 ---
Specifications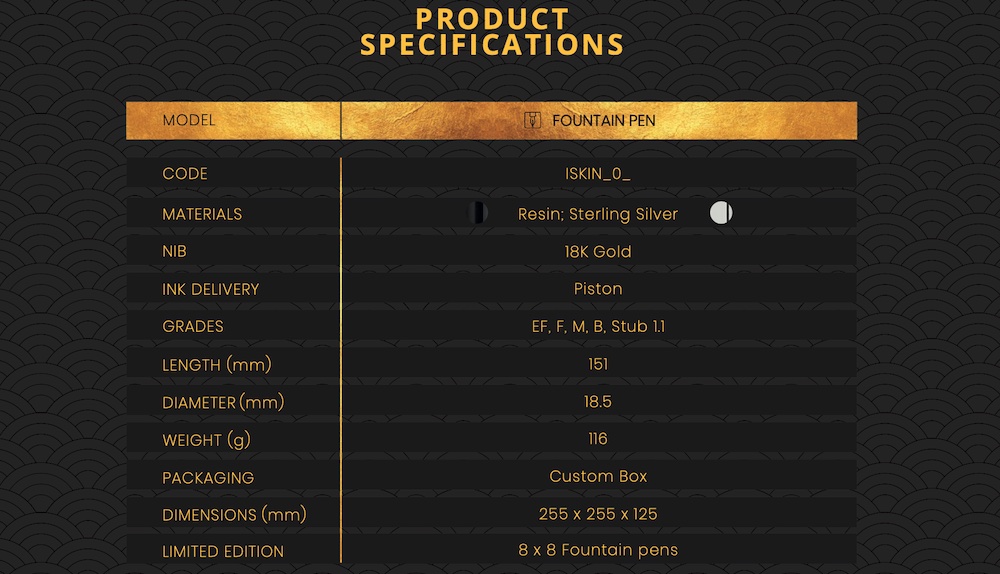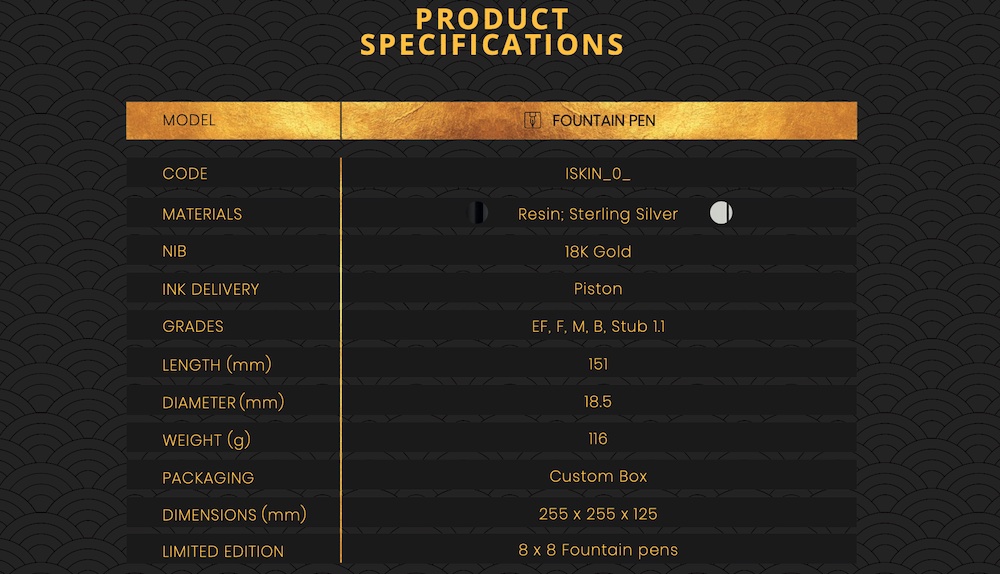 ---
Packaging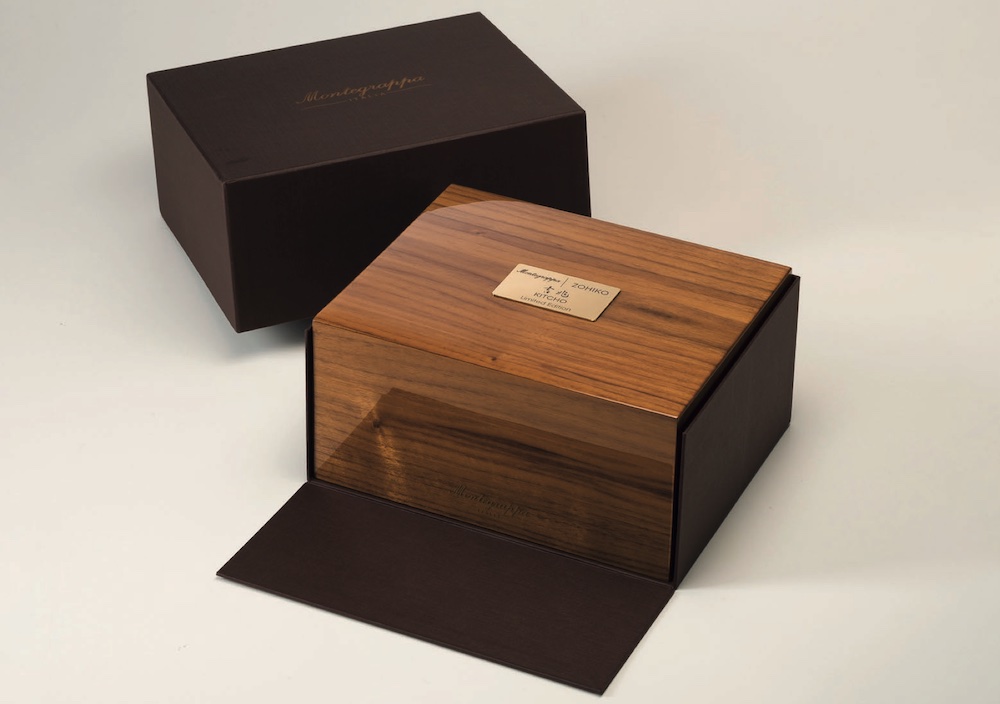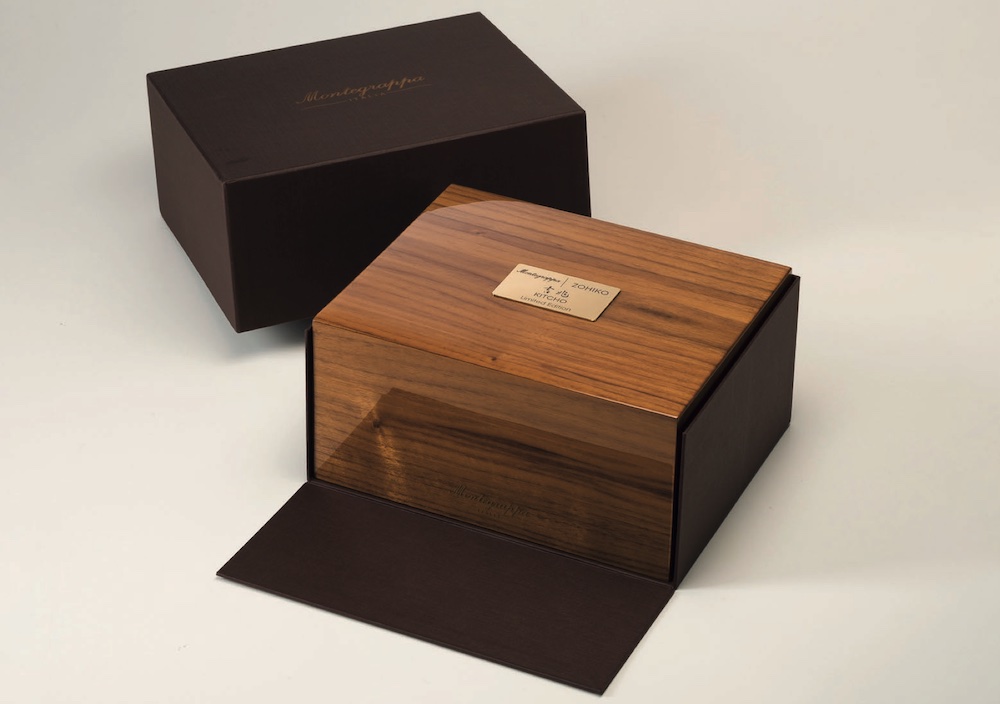 ---
Call or email us for more information: