Russian composer Pyotr Ilyich Tchaikovsky (1840–1893) created works which rank among the most popular music in the entire classical repertoire, including his ballets Sleeping Beauty, The Nutcracker and Swan Lake, the operas The Queen of Spades, Iolanta and Eugene Onegin, his Violin Concerto in D and Symphony No.4. He was the first composer from his homeland whose music made a lasting impression
internationally, reinforced by his appearances as a guest conductor in Europe and the United States. Hugely prolific, Tchaikovsky was also versatile. His vast repertoire included ballets, operas, symphonies, concertos, commissioned orchestral works, orchestral suites and serenades, incidental music for other composers, chamber music, piano pieces, choral music and arrangements for others. His music continues to appear in popular media, from Walt Disney's 1940 animation, Fantasia, to AC-DC's 'Let There Be Rock'.
The Tchaikovsky Pens
To honour this creative genius, Montegrappa has designed two special editions. The first pen, known as White Swan, is limited to 125 fountain pens and 125 rollerball pens, in recognition of the number of years since his death. The pen is made in Black resin for the cap and
Ivory White resin for the barrel. It has been embellished with challenging laser-cut engravings of his portrait and signature on the cap, and an excerpt from Swan Lake's music original score.
Sterling Silver trim has been applied to each of the 125 pens, etched with a Montegrappa logo and his lifetime years on the cap ring. The blind cap is inscribed with the Limited Edition number, while the signature clip resembles as a flute. The cap top is fashioned with a slanted cut, with the "Sol" key central, embellished by the light of a diamond. The fountain pen is piston-fed. The nib is made in 18k gold with a ballet-dancer from Swan Lake etched on its top. The pen is available in the writing grades of Fine, Medium and Broad.
The second limited, called Black Swan, consists of fountain and rollerball pens, with 1840 examples of each to represent the year of his birth. Matching the form of the first model, this edition features resin coloured entirely in Black for both barrel and cap. Its "Sol" key is enriched with a Swarovski crystal stone, and the cap is engraved with Tchaikovsky's signature, while the barrel features an excerpt from Swan Lake's music original score.
See the Tchaikovsky brochure here.
---

Tchaikovsky Black Swan Fountain Pen – Black Resin – 18K White Gold Nib – Model ISTSN_AC – Limited 1840 Pieces – $1,795

Tchaikovsky Black Swan Rollerball Pen – Black Resin – Model ISTSNRAC – Limited 1840 Pieces – $1,325

Tchaikovsky White Swan Fountain Pen – White Resin – Model ISTSN_AH– Limited 125 Pieces – $1,795

Tchaikovsky White Swan Rollerball Pen – White Resin – Model ISTSNRAH – Limited 125 Pieces – $1,325
---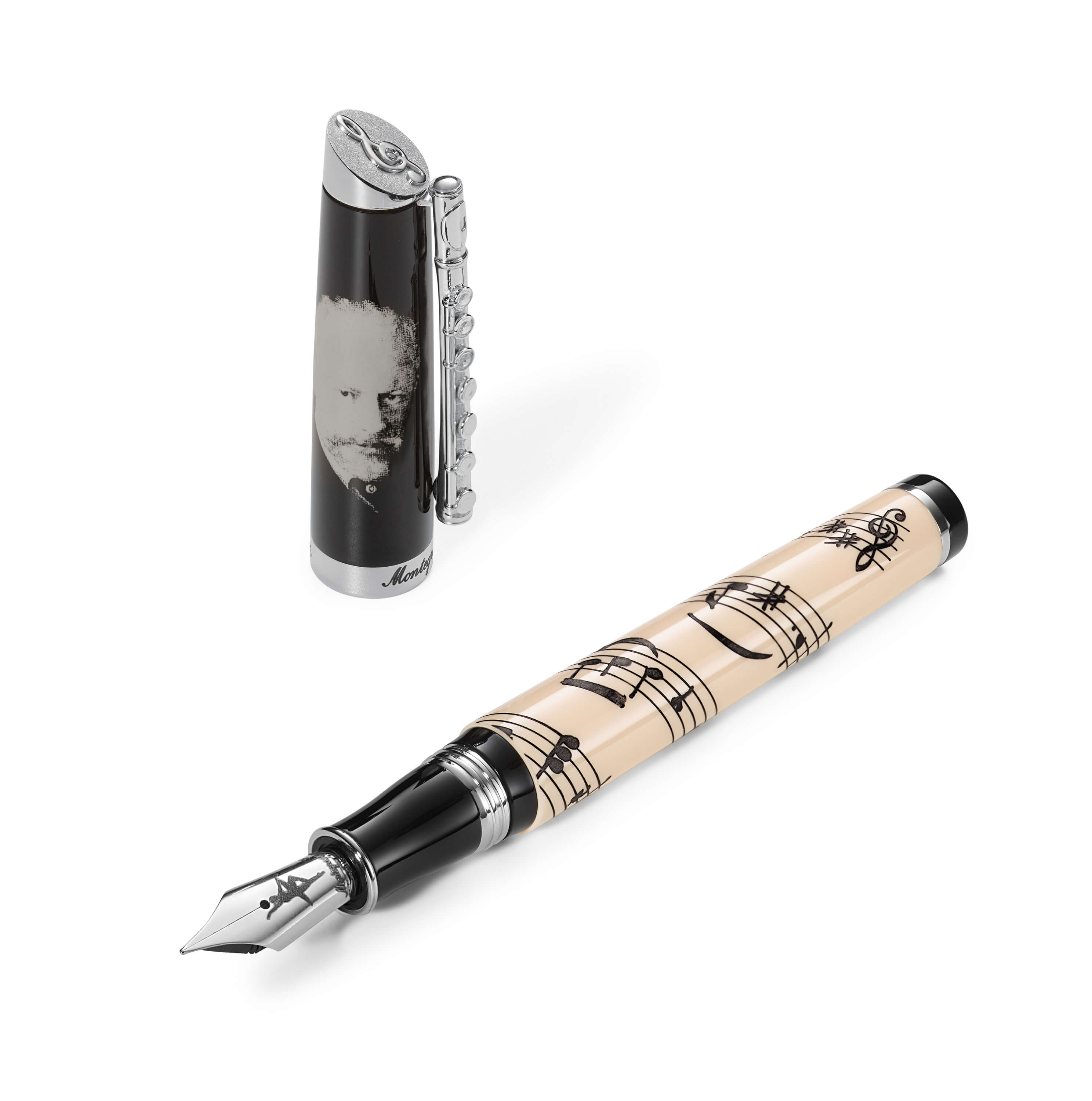 ---