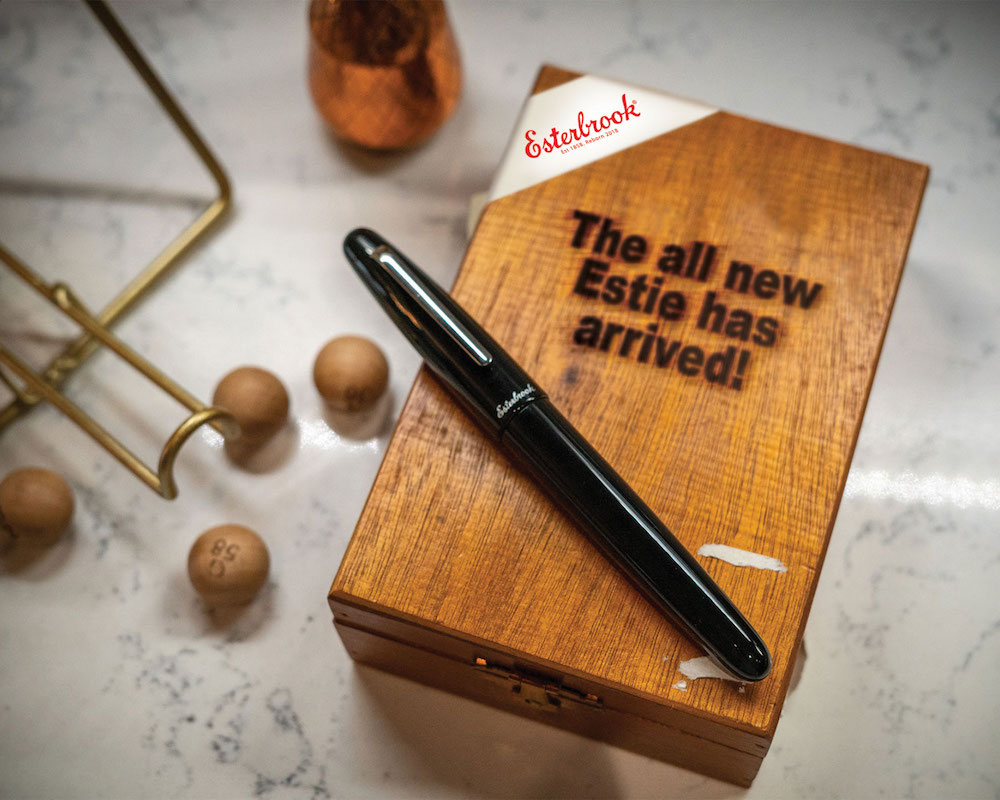 August 10, 2018 
Estie
Announcement
The Esterbrook Pen Company, a true American Original, is rewriting its long success story in modern times with a fresh new pen collection based on a complete rebranding. Titled Estie, a kind of nick name for Esterbrook, is a tribute to the brand and its storied history. Short for Esterbrook, "Estie" also provides a feeling of 1930s nostalgia, when phrases like dingy, dizzy, doggy and brodie were commonplace. A time when fountain pens were an integral part of life and communication for most Americans. 
Esterbook began manufacturing nibs in the US in the mid 1800s, but the 1930s were a period of importance, as they introduced their first interchangeable nib system in 1933. The interchangeable nibs gave the user many options for writing, whether in school, business, personal etc. Today, a similar system is reborn with the Estie and the specially engineered MV Nib Adaptor. The MV adaptor delivers a vintage nib experience with a modern shape Esterbrook pen. 
Release
Esterbrook has introduced a new collection and titled it Estie, a modern day nick name for the brand and a symbol of 1930s nostalgia. The Estie has a clean and understated design with a ringless center and a sleek and narrow pocket clip. The Estie is available in fountain pen and roller ball and can be selected from a vintage palette of colors, including midnight blue, tortoise and black. The black is available in the standard size and also a larger model called the Estie OS or oversized. The fountain pen can be inked with either cartridge or converter and is equipped with the respected size six JOWO German nib and the cushion cap closure. 
Special note
The Estie is the first collection from Esterbrook to accept the ever popular MV Nib Adaptor. The MV Adaptor is a secondary grip section that's been engineered to accept the nib and feed from the many popular vintage Esterbrook steel nibs. 
Catalog Copy
The Esterbrook Pen Company is reborn with its first pen collection, Estie. Estie is available in a standard collection with three vintage style acrylics and one oversized, or OS oversized version in black. To add more nostalgia to the collection, the Estie is the first fountain pen from Esterbook to accept the new MV Nib Adaptor. Take your modern pen to vintage, as the adaptor has been engineered to accept the original steel nibs from Esterbrook's past.
The Estie standard collection is available in black, midnight blue and tortoise, while the senior size is available in black.