Tutankhamun LE
---
Our new non plus ultra release marks the centenary of one of the 20th century's most momentous discoveries. Richly detailed and shrouded in gold, the very-limited Tutankhamun is available for delivery to markets from mid November, 2022.
4 November 2022 marks 100 years since the discovery of King Tutankhamun's tomb in Egypt's Valley of the Gods. Revealed to the public on 30 January 1923, the riches discovered by British archaeologist Howard Carter captivated the world, sparking a wave of popular interest in ancient civilizations that continues to this day.
Tutankhamun memorialises Carter's discovery through its most enduring image: the pharaoh's extraordinary solid-gold death mask. Recognised as one of the world's most celebrated treasures, our centennial editions emulate the original with black diamond inlays and hand-enamelling on caps sculpted in vermeil (100 FP + RB) and solid 18K gold (10 FP + RB). Please note, the mask's plaited beard is not designed to serve as a clip.
Beneath the cap, a sculpted barrel offers a stylised representation of Tutankhamun's mummy. Realised in sterling silver or 18K gold, its aged effect is achieved organically with cataphoretic coating. Grip sections and blind caps are made from vermeil or solid gold – depending on edition. Fountain pens are cartridge/converter and are fitted with a 6mm, 18K gold nib (EF, F, M, B, Stub 1.1) customised with a hieroglyphic representation of 'Montegrappa' – previously featured on Thoth (Ancient Civilizations, 2017).
Elaborate custom packaging revisits the scene of Carter's epic discovery – reconstructing the pharaoh's burial chamber in a diorama showcase with three nested coffins at its centre. As they remove Tutankhamun from its gilded coffin, owners will feel a sense of play and discovery
---


Fountain Pen – Model: ISTTN_3L – $11,995


Rollerball – Model: ISTTNR3L- $11,795
---
Packaging & Additional Info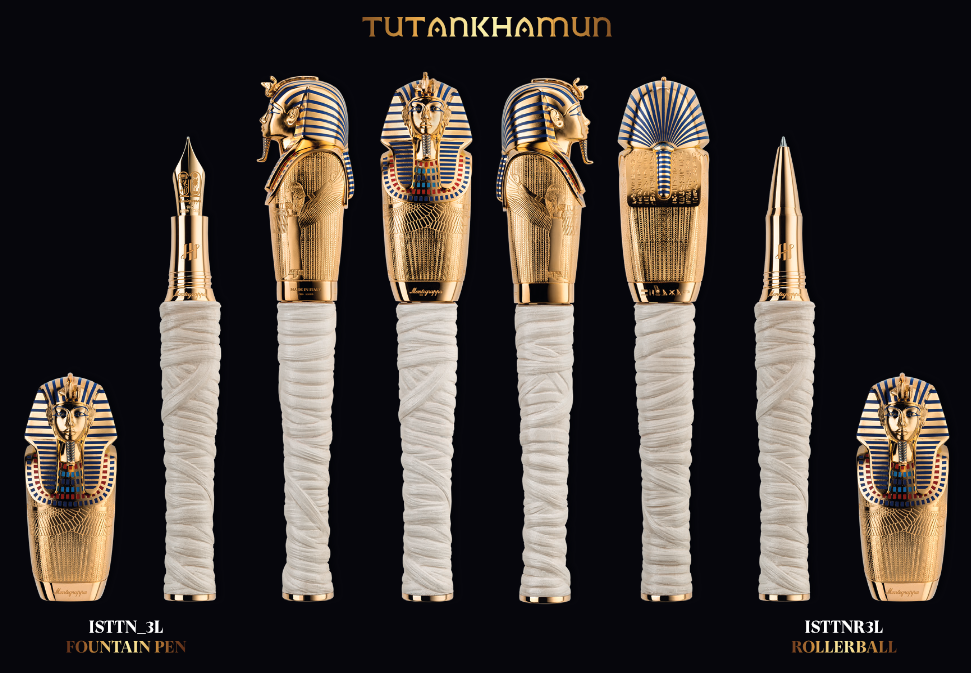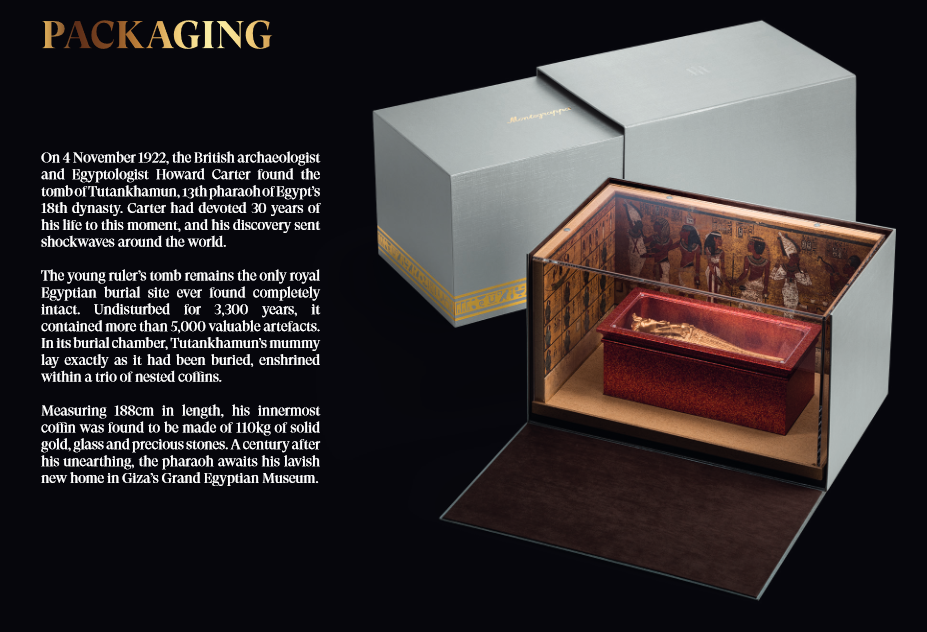 ---
Call or email us for more information: