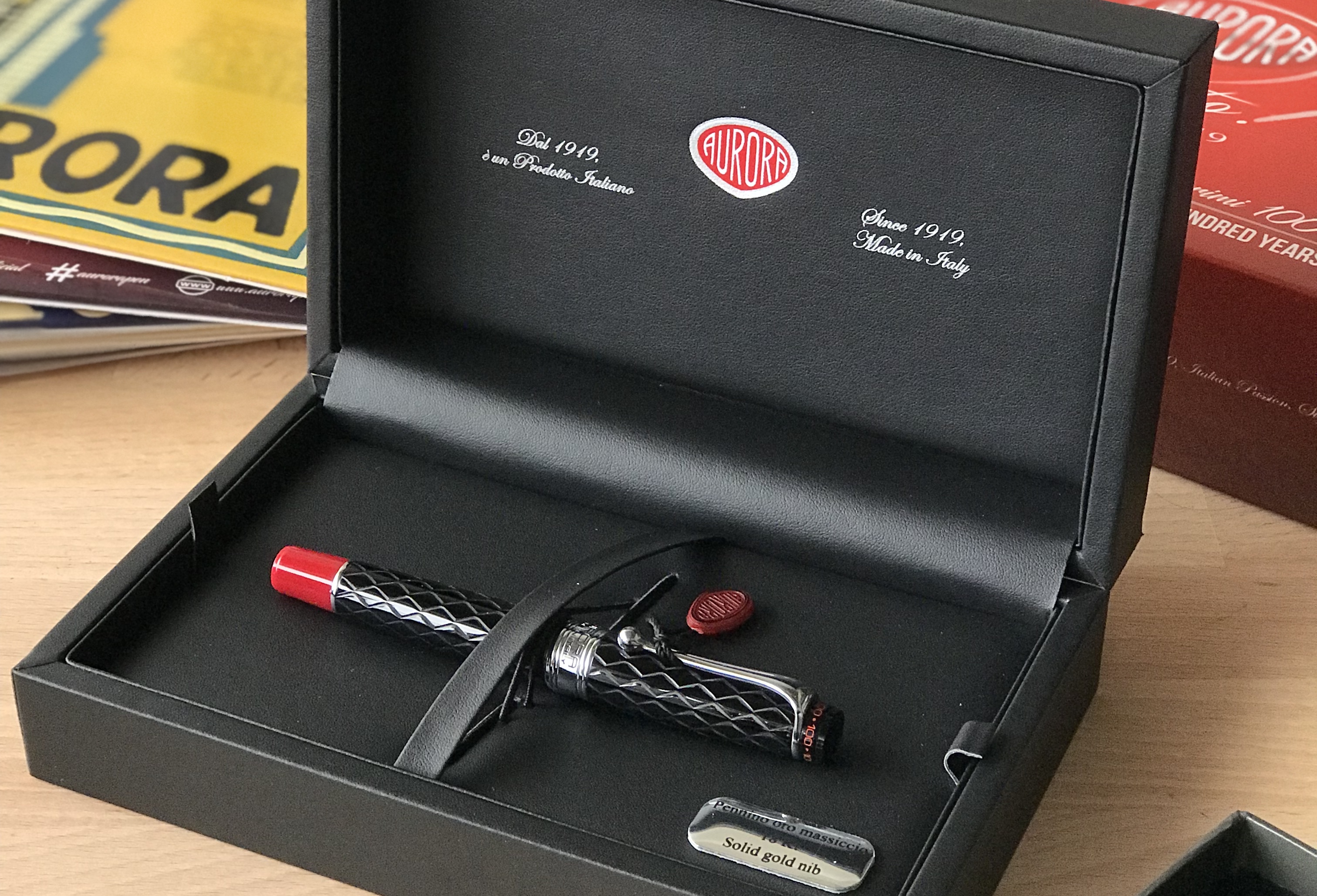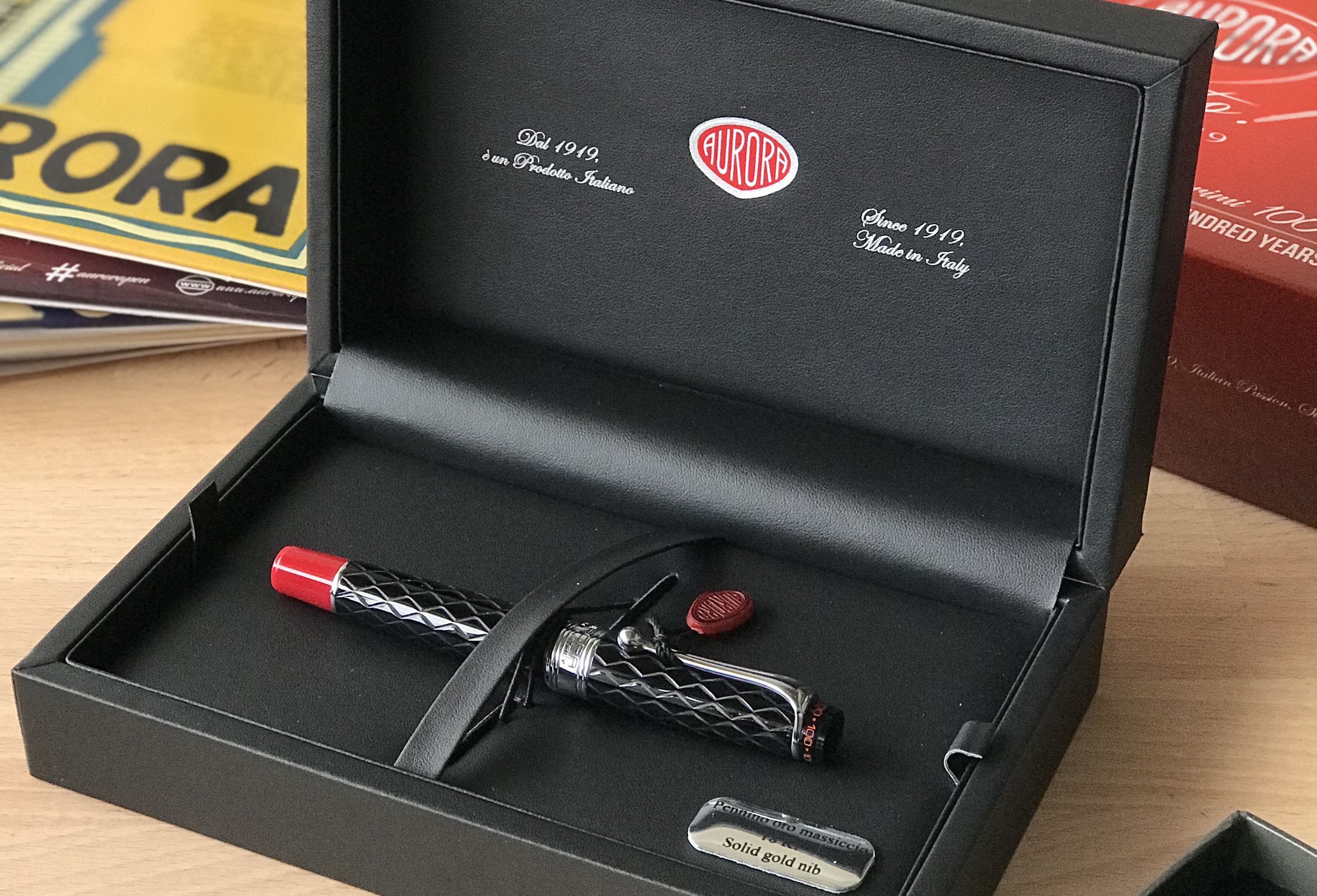 Sold out – No longer available
On the occasion of the Centenary   Aurora Penne releases "Cento Italia"
 Aurora presents the "Cento Italia" collection: 10 iconic pens in the history of Aurora, symbol of the 10 decades,
each revisited and produced in only 100 numbered pieces for the whole world (100 for Italy and 100 to Worldwide).
The Aurora Optima is the fourth of the 10 pieces, as a tribute to the founding of its manufacture in 1919. It stands out for its body with the  "Riflessi" guilloché technique and a shiny red bottom. Each fountain pen comes in an elegant black wooden and leather case.
Materials:
* Turned Italian acrylic
* Rhodium trim
Size:
*Pen weight and dimension: 0.8 oz, 5.5″x 5/8″,
* Box weight and dimension: 1 lb, 4.9 oz., 8-1/8″w x 5-3/8″d x 2-5/8″h,
Proprietary handmade Aurora nibs:
* solid 18k
* eleven stage die casting process
* rhodium plated and molded writing tip
* hand turned ebonite ink feed
* traditional point sizes include extra fine, fine, medium and broad
* custom grinds – Goccia (Tear drop shape designed for Asian style lettering), Extra Flex, Double Broad, Stub, Italic & Oblique – $150 up charge
*special feature – removable nib section – the nib section can be unscrewed from the grip area of the pen. This feature allows for thorough cleaning and maintenance of the nib and barrel.
Piston filling system –
* rear knob accesses plunger filling system
* large capacity for ink in the barrel chamber
* Clear ink window
* Hidden ink reservoir – secondary ink chamber serves as a spare ink tank.
Details:
* limited edition engraving on the cap crown
* decorative engraving on the nib
* Laser engraved ring and lacquer filled etching
* historical trademark engraved on the barrel
* fountain pen in Aurora gift box
Recommended inks – HERE
Limited edition – 100 Pieces
---


Optima "Riflessi" Cento – Model: 997-10OE  – $795.00
---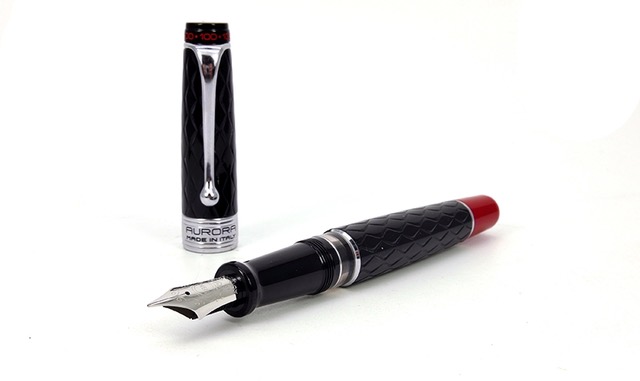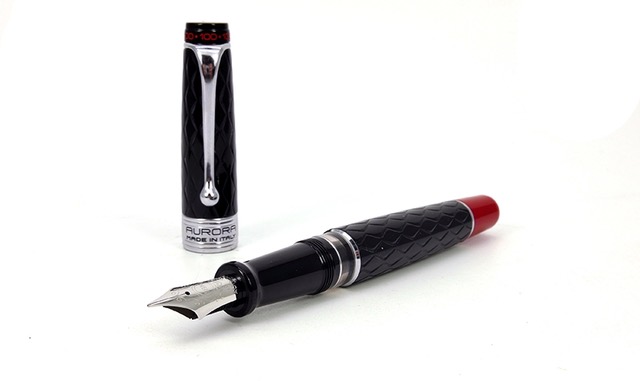 ---
Call or email us for more information: