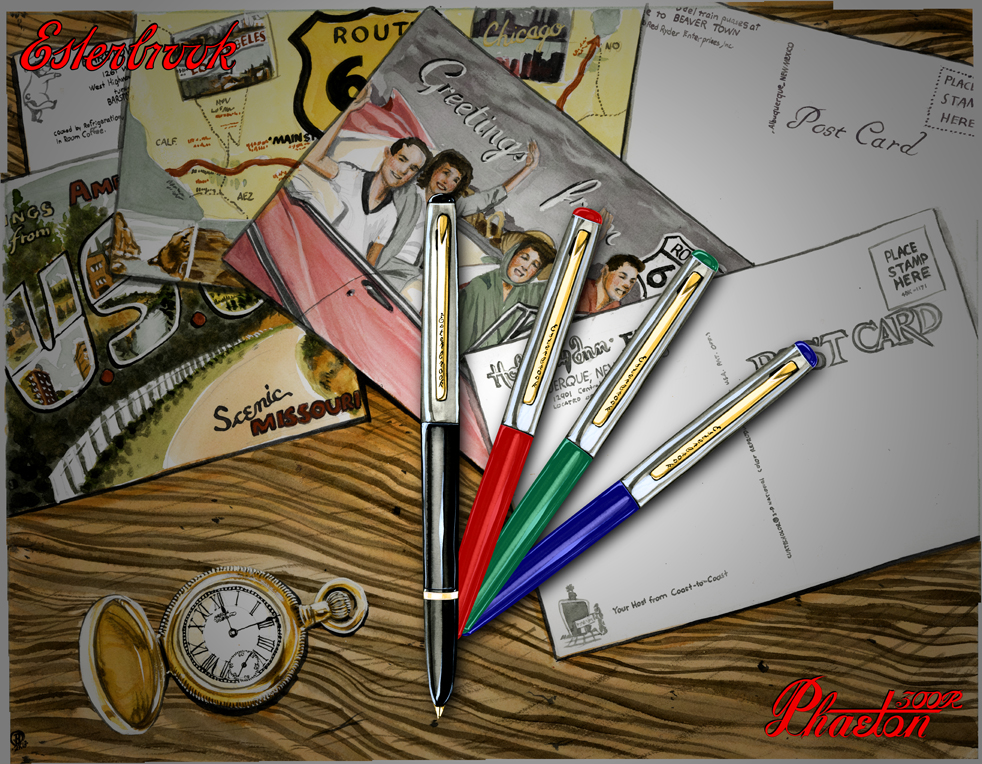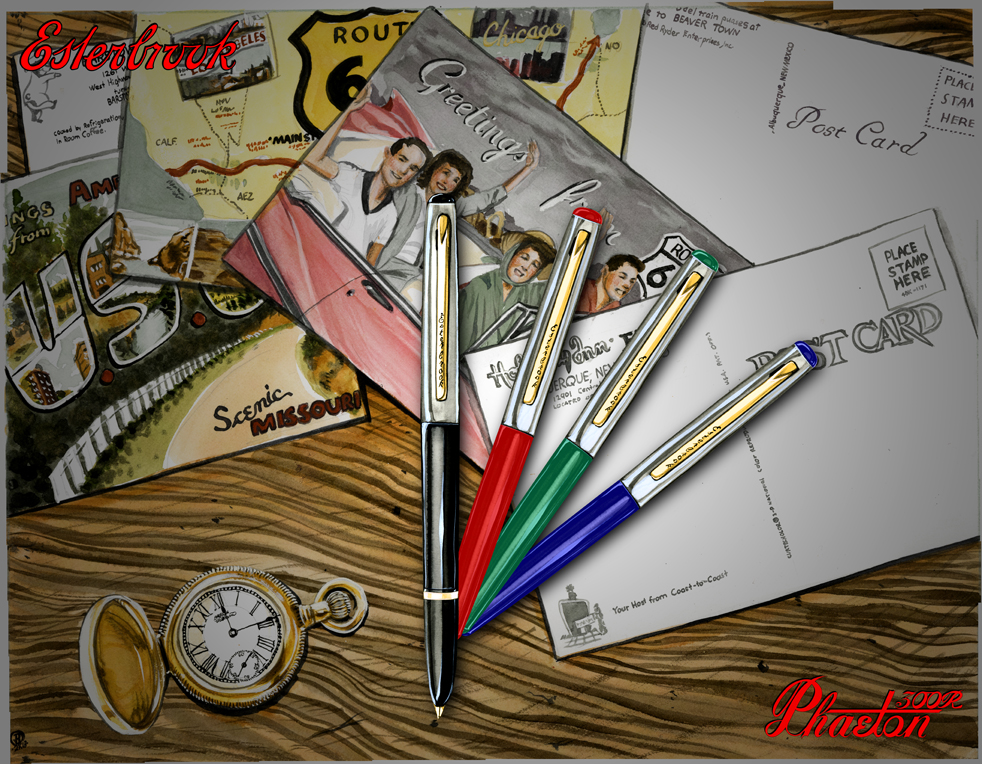 ---
Legend has it that the president of Esterbrook loved exotic cars. That is why in 1964 the Phaeton 300 was born, offering a sleek fountain pen with a hooded nib. Originally offered as a gift set for Christmas, these pens became a highly sought-after prize in the pen collecting world. The Esterbrook Phaeton rides out into the market once more; reborn as the Phaeton 300R.
The New Phaeton 300R rolls off the assembly line just in time for the Holidays. Each fountain pen is made using 1960's inspired acrylic colors specially produced for Esterbrook.  The pen features a gold plated hooded nib in Medium point size and uses a removable plunger style filling system. A brushed Chrome metal cap with gold plated clip adds style to this Iconic Esterbrook revival. Available in four vibrant colors 1) Signal Red 2) Mineral Blue 3) Spruce Green and 4) Midnight Black.
Features
Hooded gold plated nib in medium point size
Polished and turned acrylic in four vintage inspired colors- Spruce Green, Midnight Black, Signal Red and Mineral Blue
High Polished Brushed Silver cap with matching acrylic finial on cap top for added elegance.
Ink is filled by a removable plunger style filling system  which acts like a syringe to draw ink from a bottle
Sleek gold plated clip  engraved with the Esterbrook logo  provides a clean accent for the cap
Specifications
Weight: 17g overall
Measurements: 5.5" closed, 4.75" open, 5.75" posted
---
Fountain Pen




Midnight Black Fountain Pen w/Gold Trim – Model: E306 – $85




Mineral Blue Fountain Pen w/Gold trim – Model: E316 – $85




Spruce Green Fountain Pen w/Gold trim – Model: E336 – $85




Signal Red Fountain Pen w/Gold trim – Model: E326 – $85


Plunger style filling system.
---