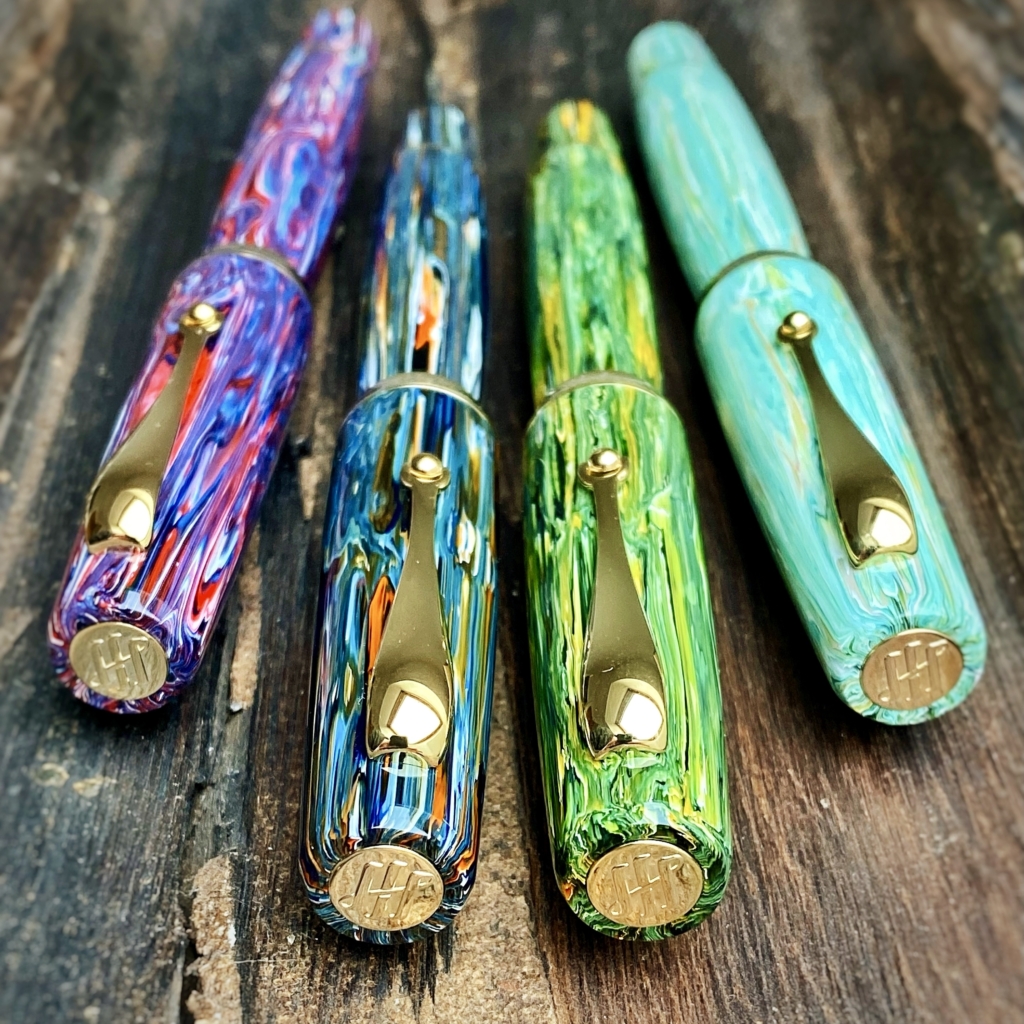 When picking up a Montegrappa Ammiraglio (or, Admiral), one feels not just the perfect balance of the pen itself, but the culmination of a century of craftsmanship. These pens are, quite simply, beautiful.  
What first thing you'll notice about this pen is the four stratified colorways that comes in the Admiral set. A unique blend of colors is at once vibrant while not being ostentatious. It's this balance of subtlety and art that has become a hallmark of Montegrappa's design aesthetic. I am personally drawn to the Samba color, while others may love the Menta, a white and turquoise blend that's as cool as the name implies.
For me, I'm still learning about fountain pens, and the Admiral collection is the perfect entre into the intelligence and craftsmanship that goes into these pens. For example, this is the first time I have been able to write with a #8 nib. The standard nibs that I've written with before are #5's and #6's. The #8 gives a bolder finish the writing experiencing while applying a bit more wetness to the ink. I like this handling more than Montegrappa's more diminutive cousins, offering me a rounded writing experiencing without taking away from the weight of the pen. The larger nib, in fact, complements the body well.
And speaking of the body, the Admiral is another thoughtful design element of this pen. Based on an earlier Sailor archive model, this design finishes with a broader cap than the barrel with the tiniest bit of curvature as it reaches the finial. It's this attention to the finer points of the pen which really make me appreciate the Admirals when admiring the pen on my desk.
As with most businesses that are dedicated to artisanal quality and heritage design, it's the small details which add up to a beautiful experience. The Admiral set is no different. Experiencing the finer points of the pen lead to a better appreciation for Montegrappa – and an understanding why they are synonymous with Italian excellence.
This four-set comes in Scream, Sambra, Menta, and Freedom. Each pen is numbered for a limited quantity.  
Contact us to get yours!