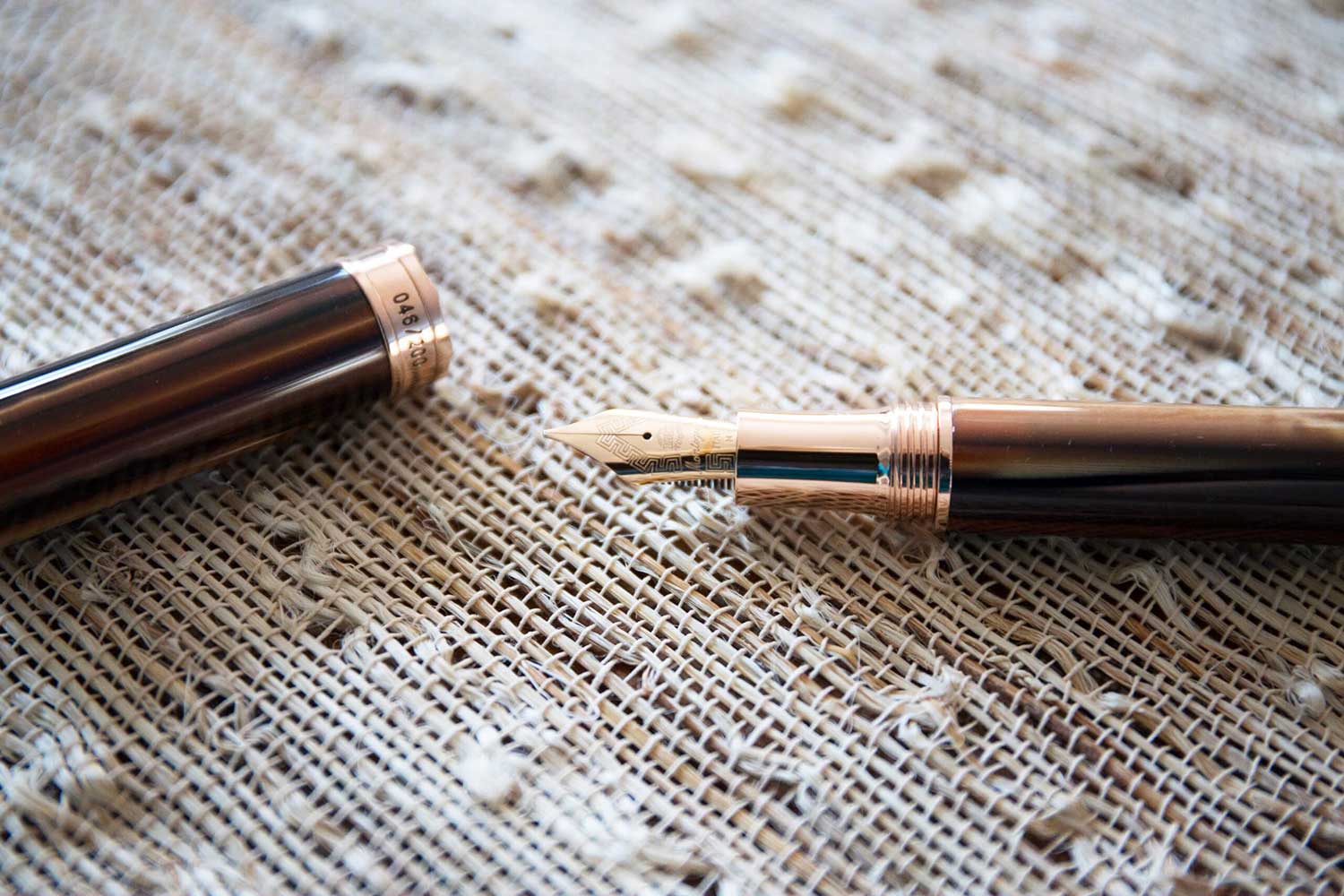 The Ducale Grande fountain pen is now available in the popular marble brown acrylic, that many know from the traditional Ducale series. The first Grande introduction from 2017 was made in black resin and was limited to 100 units worldwide. The black model sold out rather quick and its clear that the brown will follow trend. We did increase the production by 100 to 200 units, as the combination of marble brown and rose gold trim is quite alluring. We have captured a few photos, but seeing the pen on screen is no match for viewing the pen in person.
Of course it's the size that is most distinguishing. The original Ducale is substantial, but the Grande is a beast, well a beauty of a beast. The pen is 6 ½" long and boasts an impressive gold plated crown and clip. At the center of the crown, you will find the iconic Montegrappa logo and the end of the clip features the signature rolling ball. You will also find the limited number beautifully engraved on the crown opposite the logo.
The Grande is oversized and although posting may not be necessary for most, it does indeed post. And its well balanced and comfortable. The front grip section is made in rose gold plated brass and has been designed with a curvature for proper grip comfort. The grip section will unscrew from the barrel to reveal the ink filling system, which provides the option of cartridge or converter.
If you're still reading, then I'm sure you're curious about that "monster" size 8 nib. It's a beauty not only for the size but also the detailed Greek key and the Montegrappa 1912 logo. Yes the nib is a a size 8 and is available in extra fine, fine, medium and broad. There is even some speculation that stubs will be available in March, but we wont know for sure until then. The nib has a nice touch and the feed is made from ebonite which delivers a consistent flow.
The Ducale Grande has a suggested retail of $750, which we believe is a good value for a pen with so many wonderful qualities.
For more information, please feel free to email contactus@kenroindustries.com