Italo Fontana expands the Classico lineup with Sommerso, a watch boasting the characteristic feature of the professional diving watch. Watch the video in high resolution on Facebook.
…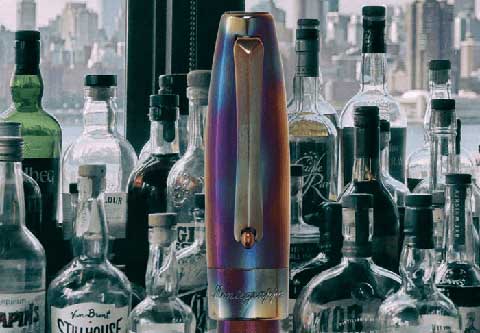 See the brochure for the Montegrappa Blue Blazer here. Inspiration comes to us at Montegrappa from a variety of sources and places and events and objects. All celebrate some aspect of life, and what enriches it. In the wake of the great success of the Mule line, inspired by a famous cocktail, we looked again at another
…
Life is a continuous journey and today our dynamic life communicates it in every moment. You wake up in New York, but tomorrow you're in Moscow, and then you fly to Milan, and fall asleep in London for an upcoming trip to Dubai or Singapore. It would be nice to stop the time but it
…
Aurora has much to celebrate these days. The fountain pen community continues to grow and with more transparency, people are embracing this fine Italian brand who is quickly approaching 100 years in 2019. Their company has experienced double turnover in 2017, as informed Fountain Pen enthusiasts look to invest their hard earned dollars in quality
…
The Ducale Grande fountain pen is now available in the popular marble brown acrylic, that many know from the traditional Ducale series. The first Grande introduction from 2017 was made in black resin and was limited to 100 units worldwide. The black model sold out rather quick and its clear that the brown will follow
…
The Classico 45 Bronzo features a rugged, military ­inspired style that draws upon U-Boat's design heritage more than any of UBoat's other watches. You  could easily imagine this watch on the wrist of a naval aviator or at the helm of a ship ­- the use of naturally aged bronze calls to mind vintage sextants,  compasses, and the like. The bronze case definitely has a vintage look that will develop a patina ­ and additional character ­ as it wears, ages, and even corrodes. As a result, no two watches are identical, and eventually each will reflect how it was used and worn throughout it's life, creating a one-­of-­a­-kind  heirloom piece. The bronze case is complemented by a dark matte ­brown face, appearing almost black, consisting of three superimposed dials and highlighted by a visible ruby  just above the 6 o'clock position. The dial sports large Arabic numerals at the 12, 4, and 8 o'clock positions, with luminous beige hands and beige hour markers for maximum visibility. The Classico 45 Bronzo features minimal complications on the face, just a date window (on the left side, as per UBoat's standard design) and a 24­hr indicator. A handmade and hand ­finished calf leather strap enhances the vintage look of the Classico 45 Bronzo, with a matching bronze tongue buckle that will also age  and patina alongside the watch. The lug width is a standard 20mm, making it easy to swap out the strap if you so desire, including with one of the various U-Boat straps available here. The Classico collection reflects the essence of U­Boat's style and serves as the perfect entry point for someone interested in the brand. A no nonsense watch,  the Classico 45 Bronzo can be your primary timepiece, and will pair just as well with a suit as it would with casual attire. Properly maintained, this watch could  last a lifetime, as the bronze case is designed to take a beating while only becoming more attractive as a result. See all technical details of this watch here.
…
With its epic storylines of treachery and nobility, family and honor, ambition and love, and death and survival the hit HBO ® series Game of Thrones has captured the imagination of fans globally and made it one of the most popular shows on television. Montegrappa is proud to announce a series of writing instruments that
…
Today we would like to share the process for assembling and testing the piston system on the new Aurora Marte. The Marte has an 88 silhouette and shares the same fountain pen piston system as other Aurora 88 and Optima pens. Aurora goes the extra mile to ensure each pen is ready to be inked
…
Ebonite, substance discovered in 1839 and obtained by vulcanizing natural rubber in excess of sulfur (about 30% – 40%) for prolonged periods, is the historical material for the production of quality fountain pens' feeder. This material has numerous qualities that provide a high user experience; the main features, for which Aurora has always used ebonite
…
"Freedom in Creation" has always been Italo Fontana's motto since the early steps in the watch industry. As he often states in interviews: "I like the identity and originality of my creations, I do not have an obligation to create the same things that I have always designed, or to continue to do oversized timepieces. When an
…
Finally Montegrappa produced a pen with a flexible nib, the Nazionale. "Nazionale" is a model name that was a part of the Elmo catalogue, from the late 1930s. It oozes with Art Deco attitude, its colours evoking the era with exquisite tints and shadings. Now highly collectible, the Nazionale has inspired Montegrappa to revive it
…
Following his passion for diving, Italo Fontana designed many watches ready to withstand the rigorous demands of professional diving and offering a bold, clear, technical design reminiscent of high-tech instruments. Italo Fontana expands the Classico lineup with Sommerso, a watch boasting this characteristic feature of the professional diving watch.Sommerso features 45mm satin and hand finish stainless steel case and a rotating bezel with calibrated
…
Its time to spread some love, appreciation, and, of course ink! Give a Montegrappa pen with your client's name, your logo or even create a one of a kind special edition that's designed with your brand colors and identity. A fine pen can make a lasting impression that your clients or employees will treasure for
…
Several years ago, the Montegrappa Skull pen hit the shelves like a storm, becoming one of the best selling regular edition pens from the fine Italian manufacturer. The pen spawned a full line of accessories that rapidly disappeared as fast as the pen. Now, Montegrappa follows up with one of two new bold styles for
…
To honour the world's greatest artists, writers and thinkers, Montegrappa created the Genio Creativo series of pens. Each represents the achievements of an intellectual or artistic giant in a writing instrument that embodies the spirit of a specific work, as interpreted by Montegrappa's artisans. Joining writer and philosopher Kahlil Gibran and the artist Vecellio Tiziano, known as
…