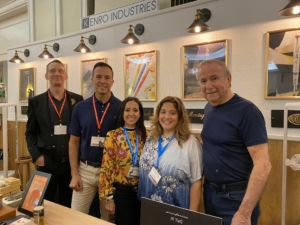 How do we properly describe our weekend at the D.C. Pen Supershow? Fun? Exciting? Memorable? It's too had to pick just one word, so we will go with D: All of the Above.
Earlier this month, we were thrilled to back at one of our favorite shows to set up our booth and see many of our old friends and customers again. The old adage about riding a bike definitely applies for us at this year's show: after such a long absence, everything seemed to fall easily back into place for us and so many others.
Much of that we owe to the organizers of the show. Somehow, between the size of the show, the additional safety measures, and the high expectations of those in attendance, they made it a breeze, both as an attendee and as a vendor. Thank you!
But there was something else in the air, too. After the year we have all had due to COVID-19, there felt like there was a bit of electricity in this year's event. Whether it was more laughter, more engagement, or more conversation, there was an undeniable buzz for both the attendees – and for us!
This year, Kenro had a lot to introduce to attendees. First, being able to introduce newcomers to some of our newer brands, including Pininfarina, YStudio, and Otto Hutt. Not only that, but Montegrappa and Aurora have launched some beautiful new products since the last time we saw many of you that we showcased at our booth.
Kenro's own brand, Esterbrook, had quite a showing this year, too! We launched our first seasonal collection for the Esterbrook JR, the Paradise Collection, in person. The bright colors of this collection weren't the only thing catching everyone's eye; we had commissioned our friend Matthew Morse (@heymatthew) to create custom Paradise pins and t-shirts to celebrate this launch. You can purchase these items on our site, while supplies last.
Not only were we in the booth, we were fortunate enough to produce three in-person Storytellers interviews during our time at the show. We shared a lot of laughs, enthusiasm, and behind-the-scenes facts from some of our favorite brand collaborators. If you were not able to attend any of these sessions virtually, you can watch them now following the links below:
Vanessa Langton's interview can be found here.
Pen Boy Roy's interview can be found here.
Matthew Morse of Hey Matthew's interview can be found here.
We want to give a heartfelt, "Thank you," to all of those who attended the show and stopped by our booth. We're happy to be back to doing what we love: seeing our friends and making new connections along the way. We're already packing our bags for San Francisco later this month and we hope to see you there.
We appreciate the continued support of Kenro and we are excited at the new products we'll soon launch among our brands. Watch this space – you won't want to miss a thing.